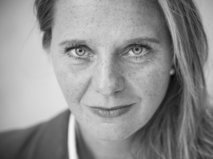 © Enrico Fontolan
Dr. Marieke von Bernstorff
Head of Publications & Public Relations
Main Focus
Italian and Spanish art of the 16th–17th century
Art theory in the 16th–17th century
Social history of the artist and of dilettantism
Research Project
Übersetzung und Kommentar der Lebensbeschreibung Domenico Zampieris (Domenichino) von Giovan Pietro Bellori

Publications (Selection)
Das Leben des Domenico Zampieri, gen. Domenichino / Vita di Domenico Zampieri, il Domenichino,

hg., kommentiert und mit einem Essay versehen sowie aus dem Italienischen übersetzt von Marieke von Bernstorff, Italienisch-Deutsche Ausgabe, Göttingen 2022 (Bellori-Edition, Bd. 8).

"'…die Hölle, das sind die anderen.' Domenichinos Aufenthalt in Neapel und die Ausstattung der Cappella del Tesoro", in Caravaggios Erben. Barock in Neapel (exhibition catalog Wiesbaden 2016

–2

017), ed. Peter Forster, Elisabeth Oy-Marra and Heiko Damm, Munich 2016, pp. 88

–

109, pp. 284

–

293, cat. 43.
(Ed. with Elisabeth Oy-Marra and Henry Keazor), Begrifflichkeit, Konzepte, Definitionen. Schreiben über Kunst und ihre Medien in Giovan Pietro Belloris "Viten" und der Kunstliteratur der Frühen Neuzeit, Wiesbaden 2014 (culturae 8).
"Doni eloquenti di un nobile romano. Le nature morte presentate da Giovan Battista Crescenzi a Filippo III e Cassiano dal Pozzo", in L'arte del dono. Scambi artistici e diplomazia tra Italia e Spagna, 1550

–

1650, hg. v. Marieke von Bernstorff and Susanne Kubersky-Piredda, Cinisello Balsamo/Milan 2013

(Studi della Bibliotheca Hertziana 8)

, pp. 161

–

181.
"Embedded Images of Dürer. On the Transmission of a Visual Quotation", in Dürer, l'Italia e l'Europa (conference proceedings, Rome 2007), ed. Sybille Ebert-Schifferer and Kristina Herrmann Fiore, Cinisello Balsamo/Milan 2011, pp. 150

–

166.
Agent und Maler als Akteure im Kunstbetrieb des frühen 17. Jahrhunderts. Giovan Battista Crescenzi und Bartolomeo Cavarozzi, Munich 2010

(Römische Studien der Bibliotheca Hertziana 28)

.
Curriculum Vitae
1993–1994 studium generale at the Leibniz Kolleg in Tübingen. 1994–2002 studies Medieval and Modern History, History of Art and Political Science in Bonn and Berlin. 1998–1999 works at the Photographic Collection of the Bibliotheca Hertziana – Max Planck Institute for Art History, Rome. 2002 MA at the Freie Universität Berlin with a thesis on Sebastiano Ricci and the church of San Bernardino alle Ossa in Milan. 2003–2005 Ph.D. scholarship from the Gerda Henkel Foundation (Düsseldorf) with research periods in Berlin, Rome and Madrid. January 2009 Ph.D. at the Technische Universität Dresden. The doctoral thesis was published in 2010 under the title Agent und Maler als Akteure im Kunstbetrieb des frühen 17. Jahrhunderts. Giovan Battista Crescenzi und Bartolomeo Cavarozzi. From October 2005 to January 2011 assistant to Prof. Dr. Sybille Ebert-Schifferer, director at the Bibliotheca Hertziana. Since 2008 member of the DFG-funded research group working on an annotated bilingual edition of Giovan Pietro Bellori's Le vite de' pittori scultori ed architetti moderni (Rome, 1672) under the aegis of Prof. Dr. Elisabeth Oy-Marra, Institute Art History at the Johannes Gutenberg University in Mainz (translation of the Life of Domenichino and critical analysis). Since 2011 Marieke von Bernstorff is a member of the academic staff of the Bibliotheca Hertziana (Publications/PR).