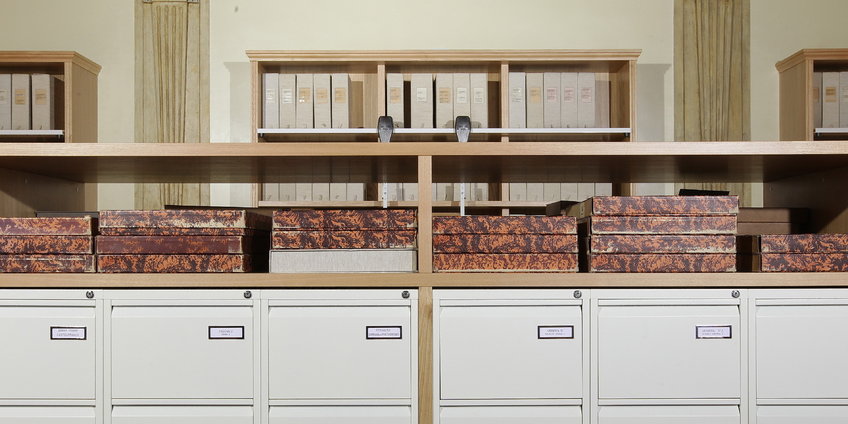 Collections
Departments
The core areas of the photographic collection are topography, architecture and art of the city of Rome in all artistic genres and from all post-antique eras. Churches, palaces, villas, squares and public buildings are documented to the fullest extent possible, often in own photographic campaigns. Another focal point is the documentation of the art and architecture of Central and Southern Italy. Photographs of drawings, including architectural drawings and drawings after the antique are also of pivotal significance for the collection.
Overview
Rome and Vatican
Topography of Italy
Topography outside Italy
Artists
Architectural drawings and after the antique drawings
Illuminated manuscripts
Medals
Prints (Le Blanc, Bartsch, engraving suites)
Corpus Gernsheim
Rare Photographs
Collocation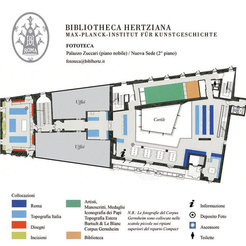 Approximately 600,000 images in the photographic collection are black and white photographs. They are available in open access with the exception of those in the Rare Photographs department. The photographic collection also holds approximately 150,000 negatives, mainly from our own photo campaigns. In 2006 we started taking photographs in digital format only; paper prints are no longer created. All new photographs can be searched for in the online catalogue. All holdings are currently being systematically retro-catalogued and digitised.
Map of the Photographic Collection (PDF)
Notes on the use of the Photographic Collection
For a comprehensive search, both the on-site collections and the digital collections in the online catalog should be consulted.
When conducting on-site research, please observe the following: The photographs must be handled with care and held only by the cardboard edges. It is prohibited to write, make notes or marks of any kind on them. On request to the information desk, historical photographs (rare photographs) and large formats can be consulted at reserved workplaces.
Photo boxes may be taken to a workplace within the photographic collection and are put back on the shelf by the users themselves. The order of the folders in the boxes must not be changed. Single photographs may be taken out of the filing cabinets, but not the file folders. After consultation the photographs should be placed on the trays for reshelving.
It is not permitted to photograph or scan the images. Personal handsets with a maximum of 30 photographs can be deposited at the information desk for a period of three days. It is not permitted to remove photographs from the rooms of the photographic collection.
The staff of the Photographic Collection is always available for questions and assistance.
Provenances
The oldest holdings of the photographic collection date back to the "Photographiensammlungen" (approximately 12,000 positives) donated to the Bibliotheca Hertziana by Henriette Hertz and Ernst Steinmann in 1913. In addition to its own photographic campaigns and acquisitions from museums, archives and photographers, the collection continues to grow through bequests and donations of private archives from photographers and art historians. The most comprehensive acquisitions and donations include contributions from: