Rome and Naples in spring 2020. Documentary photography during the lockdown
An online exhibition by the Photographic Collection of the Bibliotheca Hertziana – Max Planck Institute for Art History, with photographs by Enrico Fontolan, Marcello Leotta and Luciano, Marco and Matteo Pedicini.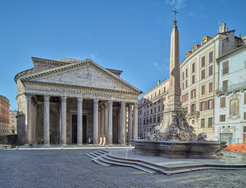 The Spanish Steps in Rome deserted, no more long queues in front of the Colosseum, the Trevi Fountain in monumental silence. The hard lockdown caused by the COVID-19 pandemic prevailed for about three months in Italy. Only essential activities could still be carried out outside one's own four walls. The profession of photographer was one of them. Enrico Fontolan, Marcello Leotta, and Luciano Pedicini and his sons Marco and Matteo photographed monuments, residential streets and individual buildings, large panoramas and small details for the Photographic Collection. We have asked them to contextualise their shots by describing their motivation and impressions of these photo campaigns in personal statements. Furthermore, this exhibition aims to reflect on the value and status of documentary photography in art history and beyond.
The exhibition can be viewed in German, Italian, English.
Contact: Tatjana Bartsch