Rome Contemporary
The research initiative Rome Contemporary aims to reevaluate the significance of Rome in the field of art throughout the 20th and 21st centuries. For this period, established narratives on the one hand insist on an increasing peripheralization of the city. On the other hand, the self-referential formula of Rome's historically unique position persisted. In engaging with previous art-historical interpretations, Rome Contemporary supports innovative research on the Roman art scene, taking into account its translocal interconnections.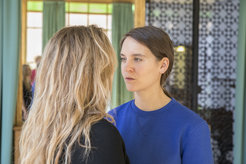 Challenging the common assumption that the city lost its far-reaching importance in the art field since the end of the Ancien Régime, this initiative invites to verify the implicit hierarchies which have been shaping the Starting from the city of Rome, the research initiative invites studies that examine objects from the visual arts and related areas with regard to the particular conditions of their production, publication and circulation. In contrast to the universalizing historiographical tendencies brought on by the increase of global perspectives in contemporary art history, Rome Contemporary focuses on idiomatic aspects; on the spatial, temporal and cultural situatedness of its objects of inquiry.
At the same time, however, the initiative is aimed at destabilizing a narrow understanding of locality. The trope of Rome as a palimpsest of condensed history is put in tension with the network of reciprocal exchange processes that have linked and still connect the city translocally. In so doing, Rome Contemporary seeks to specify and expand the various frames of reference of the Roman art scene in the 20th and 21st centuries.
Alongside this change of perspective, the initiative also enables and promotes an ongoing discussion of the historiographical conventions, canons and structures upon which the history of contemporary art in Italy relies.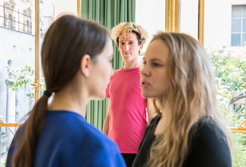 In the framework of Rome Contemporary, a wide range of topics is negotiated, including: artistic and curatorial practices; art criticism and publishing; art collectives and networks; public and private collections; the art market and institutional history; history of the fascist regime and its aftermath; colonialism, world wars, and migration; urbanism and public space; terrorism; Italian Theory; feminism; ecology; the transitions from Fordism to post-Fordism and the interactions between globalization and art production; narratives and methods of historicization; artistic or art historical concepts of time and history.
Investigating the diverse spatial, temporal and cultural entanglements of the Roman art scene in the 20th and 21st centuries, Rome Contemporary serves as a research platform and combines different perspectives on the city through the following formats:
- a scientific program which, in addition to the individual projects of the involved researchers, also includes lectures, workshops, and reading groups, as well as seminars at the institute and in situ
- a digital initiative that archives art-historically relevant texts, images, sounds and video materials according to new standards, and makes them available for research
- artistic interventions that engage with the Institute's holdings and temporarily repurpose its premises.