Personare
Lecture
Date:

Apr 10, 2018

Time:

06:00 PM (Local Time Germany)

Speaker:

Bissera V. Pentcheva

Location:

Villino Stroganoff, Via Gregoriana 22, 00187 Rom

Contact:

paulinyi@biblhertz.it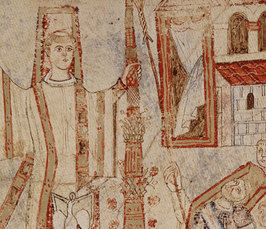 This conference explores the phenomenon of performative iconicity in medieval art, an aspect of iconic presence manifested through chant and never recognized as image heretofore in scholarship. This non-representational icon is revealed in the synergy between the temporality of the liturgical ritual and the acoustics of reverberation.
The Latin words persona and personare allow us to enter in the phenomenon of the performative icon. Personare means both "to personify" and "to resound." The first meaning exemplifies the stylites and the officiating clergy who channel the Holy Spirit through their bodies and express the metaphysical in the ephemeral phenomena of breath and perfume of burning incense. They embody the sacred figure they model and enact it in the liturgical celebration. The second significance – "to resound" – I connect to acoustics, animation, and changed states of consciousness perpetrated by repetition and reverberation. Personare is thus revealed in the way the human voice, expelling its energy in space, transforms the inanimate into animate and stirs the imagination to sense the metaphysical in the phenomenal. This conference will confront the phenomenon of personare through both the cathedral liturgy of Constantinople and the Beneventan Rite of Easter Vigil.
Bissera V. Pentcheva is a full professor at Stanford University. In recent years her research has focused on the interaction of art, music, and acoustics. Her research in music has been inspired by interest in phenomenology and aesthetics of medieval art. Her work has been recognized by a series of prestigious fellowships among which: Guggenheim fellowship 2018–2019, Wissenschaftskolleg Berlin 2018-2019, American Academy in Rome, 2017–2018.