Ritualized Energy. The Performance of the Medieval Liturgy Reconsidered
Lecture
Date:

Oct 21, 2019

Time:

06:00 PM (Local Time Germany)

Speaker:

Éric Palazzo

Location:

Villino Stroganoff, Via Gregoriana 22, 00187 Rom

Contact:

paulinyi@biblhertz.it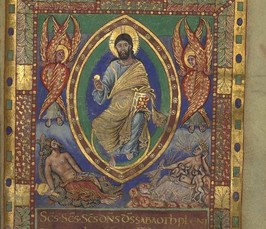 The lecture will explore several aspects of the concept of Energy in medieval Christianity.
The concept of Energy will be explained according to the evolution of the definition given by Christian theologians from Antiquity to the Middle Ages. The presentation and analysis of different case studies, taken in various sources (liturgical texts, exegesis, theology, images, poetry…) will reconsider the definition of the performance of the liturgy in the Middle Ages.
Éric Palazzo, Professor of medieval art history at the University of Poitiers, senior member of the Institut universitaire de France. He has been visiting professor in numerous universities and Getty senior scholar at the Getty Research Institute (Los Angeles) in 2006-2007 and member at the Institute for Advanced Study (Princeton) in 2018-2019. He was the Director of the Centre d'études supérieures de civilisation médiévale (Poitiers) between 2000-2007.
Scientific Organization: Elisabetta Scirocco