Model Rome – International Capital Cities of Science and Arts in the 20th Century
International Conference
Registration required

Start:

Oct 22, 2019 06:00 PM (Local Time Germany)

End:

Oct 24, 2019 04:00 PM

Location:

Villa Lante (Finnish Institute), German Historical Institute (DHI), German Archaelogical Institute

Contact:

convegno.unione@dhi-roma.it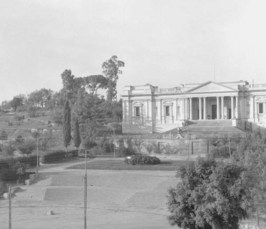 During the 19th century, Rome rose as a unique international centre for research within the humanities. Classical studies, history and art history played a prominent role within this process. Rome was regarded as the hub of Western civilization with a bountiful historical and cultural heritage. It developed into a central location for the storage, transmission and presentation of knowledge and culture.
Key institutions, such as archives, libraries and museums were founded providing the institutional framework for researchers and artists. Artists from all over Europe had moved to Rome since the mid eighteenth century. They soon strived to found national academies within the city and in the process created a transnational and intellectual atmosphere of interaction and exchange. Considering these historical developments, the conference will address the "Model Rome", its development, and whether it served as a model for other scientific and cultural hubs worldwide. Special attention will be given to modes and practices of cooperation,interdisciplinary work and times of fierce competition and rivalry between different nations and their institutes. Therefore, the conference will not only focus on international Institutes in Rome but will also direct its attention towards individual actors, their networks and the wider political frameworks that influenced the development of scientific communities in the 20th century.
The concluding Round Table will tackle with an outlook into the 21st century and new models of scientific internationalism.

Registration is required: dhi-roma.it/tagungen


Conference venues
Deutsches Archäologisches Institut
(Abteilung Rom)
Istituto Archeologico Germanico di Roma
Via Sicilia, 136
I-00187 Roma
www.dainst.org

Deutsches Historisches Institut in Rom
Istituto Storico Germanico di Roma
Via Aurelia Antica, 391
I-00165 Roma
www.dhi-roma.it

Institutum Romanum Finlandiae
The Finnish Institute in Rome
Passeggiata del Gianicolo, 10
Villa Lante
I-00165 Roma
www.irfrome.org

Organisation
Franziska Rohloff and Dorothea Wohlfarth (DAI Rome/DHI Rome)

In cooperation with Bibliotheca Hertziana ̶ Max-Planck-Institut für Kunstgeschichte, Deutsche Akademie Rom ̶ Villa Massimo
Promoted by Max Weber Stiftung ̶ Deutsche Geisteswissenschaftliche Institute im Ausland, Auswärtiges Amt

International conference, organised by the German Historical Institute in Rome, the German Archeological Institute in Rome, the Finnish Institute in Rome and the Unione degli Istituti di Archeologia, Storia e Storia dell'Arte in Roma.

Scientific committee
Marie Bossaert (École française de Rome)
Arja Karivieri (Institutum Romanum Finlandiae)
Anna Wegener (Det Danske Institut i Rom)
Martin Baumeister (Deutsches Historisches Institut in Rom)
Ortwin Dally (Deutsches Archäologisches Institut, Abteilung Rom)
Andrea Giardina (Istituto Italiano per la Storia Antica)
Asker Pelgrom (Koninklijk Nederlands Instituut Rome)