Staging the Silver Mountain of Potosí in Antwerp: Peter Paul Rubens's Arch of the Mint for the Entry of Cardinal-Infante Ferdinand (1635)
Research Seminar
Admission until 11:30

Date:

Dec 3, 2019

Time:

11:00 AM - 01:00 PM (Local Time Germany)

Speaker:

Christine Göttler

Location:

Villino Stroganoff, Via Gregoriana 22, 00187 Rom

Contact:

freiberg@biblhertz.it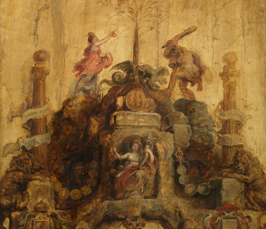 Representing the Cerro Rico of Potosí, "gleaming with veins of gold and silver," Rubens's Arch of the Mint was one of the visually most striking structures of the Blijde Inkomst of 1635.
Linking the Antwerp Royal Mint to the largest Spanish colonial mine in the Andean mountains, it conflated the site of Cerro Rico (with its seemingly inexhaustible flow of silver) with that of Mount Etna with its underground forge of Vulcan, a god famed for his artifice and cunning. Double-sided like a coin but incomparably larger, Rubens's structure endowed the Royal Mint's new silver currencies with a powerful but ambiguous agency both as a means of sustaining the (contested) Army of Flanders and as tokens of virtuoso craftsmanship and skill. This paper situates Rubens's Arch of the Mint within a larger historical framework of imageries, imaginaries, and policies associated with precious metals, especially silver, the metal and money that sparked the desires originally fueled by gold.

Christine Göttler is Professor emerita of Art History at the Universität Bern and currently a Francesco De Dombrowski Visiting Professor, I Tatti, The Harvard University Center for Italian Renaissance Studies. She is working on a monograph entitled A Golden Age of Silver: The Imaginaries of Metals in Seventeenth-Century Antwerp.