Machine Vision(s) : a Seventeen-Century Catoptric Device Reconsidered/Reconfigured
Research Seminar
Event streamed live / Participation on-site possible upon registration

Date:

Oct 9, 2020

Time:

12:00 PM - 01:00 PM (Local Time Germany)

Speaker:

Marie Theres Stauffer

Location:

Villino Stroganoff, Via Gregoriana 22, 00187 Rom

Host:

Bibliotheca Hertziana - Max-Planck-Institut für Kunstgeschichte

Contact:

freiberg@biblhertz.it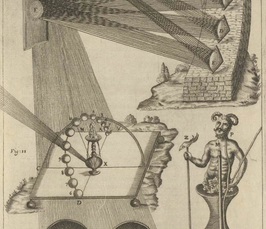 In early modern Europe, it was not uncommon that mirrored devices were used to provide intense visual experiences. These practices were actually part of a scientific culture in which aesthetics played a fundamental role. Catoptric devices offered a wide range of optical illusions such as luxuriant gardens with topiaries and fountains, but also flying bodies, transformed faces and fire-spewing dragons or even alleys with splendid houses and palaces.
This is at least what we learn from the description of such mirrored machines and their effects in books – since few of them have survived. One must therefore necessarily ask, to what extent and in what form is the field of early modern catoptrics accessible from a twenty-first century perspective? If knowledge of such «mirror-machines» can hardly be accomplished through direct access and must be gleaned mainly from the written sources, it is crucial to note, however, that the visual effectiveness of a catoptric image during an actual demonstration obeyed different rules than those described in the written accounts. Consequently, this talk will concentrate on the dissociations that existed between the Early Modern textual descriptions and the actual processes that may have taken place during demonstrations. In order to substantiate hypothesis on catoptrical praxis, the conference will include observations made with a recently constructed model. This model is based on seventeenth-century descriptions and ultimately serves as a means to reflect on historical distance.


Marie Theres Stauffer is professor of Architectural History at the University of Geneva. The recipient of fellowships from the Alexander von Humboldt-Foundation (Humboldt-Universität zu Berlin), the University of Zurich, and the Max-Planck-Gesellschaft (Bibliotheca Hertziana), she was teaching before at the Universities of Konstanz, Bern, Zurich and at ETH Zurich. Her research focuses on early modern and modern architecture in France, Germany and Italy, with special attention to perceptual and semantic aspects of architecture, and to the relation between image theory and practice.

This research seminar is part of the event "Pareidolia. Vie, piazze e monumenti di Roma" (Open House with Artists) and it will be streamed live on our streaming channel.
On-site participation is possible previous registration HERE (the number of seats is limited).
Scientific Organization: Maria Bremer