Film Screening: Black Quantum Futurism, Thirza Jean Cuthand and The Otolith Group
Film Screening
Online event via Zoom

Date:

Jan 11, 2021

Time:

01:00 PM - 04:00 PM (Local Time Germany)

Speaker:

Film Screening moderated by Katharina Bedenbender, Charlotte Matter, Tristan Weddigen

Contact:

freiberg@biblhertz.it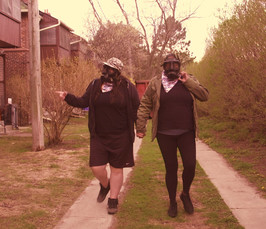 On the occasion of the upcoming lecture by T. J. Demos on January 13, we will be screening the following works:– Black Quantum Futurism, Black Space Agency Training Video, 2019 (4 minutes) – Thirza Jean Cuthand, Reclamation, 2018 (11 minutes) – The Otolith Group, INFINITY minus Infinity, 2019 (56 minutes) The screenings will be followed by a discussion.
Black Quantum Futurism Collective is a multidisciplinary collaboration between Camae Ayewa and Rasheedah Phillips exploring the intersections of futurism, creative media, DIY-aesthetics, and activism in marginalized communities through an alternative temporal lens. BQF Collective has created a number of community-based events, experimental music projects, performances, exhibitions, zines, and anthologies of experimental essays on space-time consciousness.
Thirza Jean Cuthand is a filmmaker, performance artist and writer based in Toronto, Canada. Since 1995 she has been making short experimental narrative videos and films about sexuality, madness, Queer identity and love, and Indigeneity, which have screened in festivals internationally.
The Otolith Group's work is research based and spans the moving image, audio, performance, installation, and curation. It incorporates film making and post-lens-based essayistic aesthetics that explore the temporal anomalies, anthropic inversions, and synthetic alienation of the posthuman, the inhuman, the non-human, and the complexity of the environmental conditions of life we all face.


For participation via zoom, please find the link HERE
(no registration required)


Scientific organization: Katharina Bedenbender, Charlotte Matter, Tristan Weddigen