Roma, Atene e l'Europa. Tutela delle antichità e mercato d'arte tra fine '700 e primo '800
Research Seminar
Evento online via Zoom

Date:

May 31, 2021

Time:

11:00 AM - 01:00 PM (Local Time Germany)

Speaker:

Chiara Mannoni

Contact:

freiberg@biblhertz.it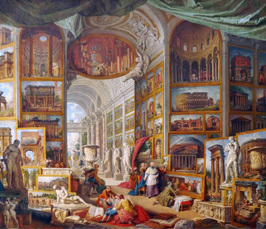 Tra fine '700 e inizio '800 gli interessi di collezionisti, eruditi e mercanti d'arte in Europa rilevarono un cambio di rotta dalle antichità di Roma a quelle di Atene. Oltre al diffuso rinnovamento di gusto in atto, è possibile ricollegare tale nuova tendenza all'emanazione di leggi severe per il controllo del mercato d'arte?
Il seminario intende mettere a fuoco lo sviluppo graduale di norme effettive per la tutela di antichità a Roma ed Atene, e come queste abbiano a loro volta influito sul mercato d'arte e la circolazione delle opere in Europa tra fine '700 e inizio '800. In particolare, fattori eterogenei – quali i nuovi orientamenti del sapere artistico, la nascita dei primi strumenti giuridici e il generale cambiamento del gusto – verranno posti in relazione con l'irrigidimento dei controlli sulle esportazioni e con lo sviluppo di nuovi mezzi per l'amministrazione dei 'beni pubblici' in entrambi i paesi. Una valutazione finale coinvolgerà prospettive più ampie: pratiche per la tutela delle opere locali saranno infatti gradualmente introdotte anche altri stati in Europa.


Chiara Mannoni è Marie-Curie Research Fellow presso l'Università Ca' Foscari di Venezia (https://pric.unive.it/projects/law-love/home). Si occupa di legislazione sulla tutela del patrimonio in Europa tra 1400 e 1800, di storia e teoria del restauro, di circolazione e mercato di antichità nel 1800. Il suo volume Artistic canons and legal protection. Developing policies to preserve, administer and trade artworks in 19th-century Rome and Athens è pubblicato dal Max-Planck-Institut für Rechtsgeschichte und Rechtstheorie di Frankfurt.

Evento online via Zoom. Il link si trova QUI.
Meeting ID: 826 0968 2393
Passcode: 560576
Organizzazione scientifica: Katharine Stahlbuhk