Il restauro delle antichità a Roma tra fine '700 e primo '800. Modelli e vicende nei Musei Capitolini
Field Seminar
Date:

May 31, 2021

Time:

03:00 PM - 05:00 PM (Local Time Germany)

Speaker:

Chiara Mannoni

Location:

Musei Capitolini, Roma

Contact:

freiberg@biblhertz.it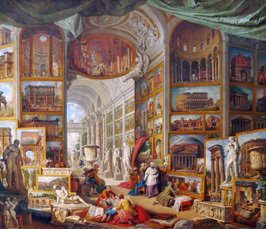 I Musei Capitolini offrono uno spunto per riflettere sulle trasformazioni avvenute nelle pratiche di restauro delle antichità a Roma tra fine '700 e inizio '800, anche nella prospettiva di recuperare episodi poco noti della storia del museo stesso.
In questo field seminar le collezioni di antichità dei Musei Capitolini stimolano una riflessione sui paradigmi della storia del restauro nella sua fase più attiva, nel secondo '700, e sui suoi radicali cambiamenti nel contesto del collezionismo e dell'allestimento dell'antico nel primo '800. L'analisi dei restauri operati su alcune opere scelte aiuterà a chiarire questioni legate all'evoluzione del gusto e delle tecniche di intervento, come anche aspetti connessi alla nuova percezione dell'opera e all'interpretazione del passato. In particolare, la storia del restauro consentirà di ripercorrere le cronache del museo subito dopo la Restaurazione pontificia del 1816, laddove la storiografia critica ha lasciato una generica lacuna.
Chiara Mannoni è Marie-Curie Research Fellow presso l'Università Ca' Foscari di Venezia (https://pric.unive.it/projects/law-love/home). Si occupa di legislazione sulla tutela del patrimonio in Europa tra 1400 e 1800, di storia e teoria del restauro, di circolazione e mercato di antichità nel 1800. Il suo volume Artistic canons and legal protection. Developing policies to preserve, administer and trade artworks in 19th-century Rome and Athens è pubblicato dal Max-Planck-Institut für Rechtsgeschichte und Rechtstheorie di Frankfurt.

Modalità per la partecipazione da parte di partecipanti esterni, verranno rese note appena possibile.
Organizzazione scientifica: Katharine Stahlbuhk