'Rome Transformed': A New Interdisciplinary Project Examining the Transformation of the Eastern Caelian from C1 to C8 CE
Research Seminar
Online event via Zoom

Date:

Dec 2, 2021

Time:

11:00 AM - 01:00 PM (Local Time Germany)

Speaker:

Ian Haynes

Contact:

rossi@biblhertz.it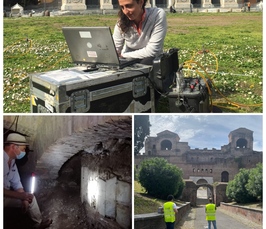 The Eastern Caelian is an area of exceptional importance to our understanding of the evolution of Rome from the Classical period to the early Middle Ages and beyond. This paper presents a range of methodologies now being introduced through the new 'Rome Transformed' Project to illuminate aspects of that evolution. It seeks not only to explore the diversity of vital source material, but also to consider how best to advance interdisciplinary analysis.
'Rome Transformed' seeks to advance our knowledge of the way the built landscape of the Eastern Caelian articulated and shaped political, military, and religious changes by producing academically robust visualisations, appropriately contextualised. It brings these elements together with cross cutting analysis of landscape change and water supply to model key transformations in the area's history providing a longer-term interdisciplinary perspective on the changing shape of this pivotal area than any previously attempted. Integrating documentary sources, architectural analysis, investigation of 12 sub-surface excavated areas with the largest geo-radar and laser scanning surveys ever conducted in Rome, the project aims to promote a new methodological approach to the study of large urban centres.
Ian Haynes is Professor of Archaeology at Newcastle University and Chair of Archaeology at the British School of Rome. He co-directed the Lateran Project with Paolo Liverani, which explored the archaeology of the Basilica of S. Giovanni in Laterano, developing this partnership through BSR-funded research at the Hospital of S. Giovanni Addolorata. The team's work at the Lateran featured extensively in the 2020 BSR/CUP publication The Basilica of Saint John Lateran to 1600, which Ian co-edited with Lex Bosman and Paolo Liverani. In 2019, Ian received a European Research Council Advanced Grant to launch the 'Roman Transformed' project.

This event will take place on Zoom Webinar. The link to join the event will be sent to you in a confirmation email. Please register through THIS LINK.
Scientific Organization: Marco Brunetti