Fabbricare le alterità: agency, visual e material culture
Research Seminar
Evento in presenza e via Zoom

Date:

May 17, 2022

Time:

11:00 AM - 01:00 PM (Local Time Germany)

Speaker:

Lucia Piccioni

Location:

Villino Stroganoff, Via Gregoriana 22, 00187 Roma & Zoom

Contact:

freiberg@biblhertz.it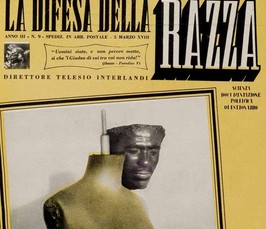 Se le teorie che tentano di circoscrivere un'identità e una razza italiana si avverano contraddittorie, vaghe e inconsistenti, le rappresentazioni del corpo realizzate in ambito coloniale si impongono, al contrario, per la loro immediatezza comme tenaci ontologie e efficaci strumenti di propaganda.
Il processo di Nation building italiano può essere definito come una nazionalizzazione dai molteplici contrasti. L'Unità tardiva (1861) dell'Italia si struttura in effetti intorno a dei centri concentrici dell'alterità che oppongono gli abitanti del Sud a quelli del Nord e la figura dell'italiano a quella delle popolazioni africane. Le immagini del corpo giocano un ruolo di primo piano nella formazione e nella diffusione di queste figure dell'alterità. Solo un'analisi interdisciplinare permette di ricostruire il ruolo decisivo delle rappresentazioni del corpo nella fabbricazione di categorie discriminanti sia nell'immaginario comune che nell'ambito scientifico dell'antropologia. Questo seminario verterà principalmente sulla storia delle collezioni delle maschere facciali antropologiche realizzate durante il colonialismo italiano, sulla loro esposizione e diffusione durante gli anni trenta del fascismo imperiale.
Lucia Piccioni è attualmente Marie Skłodowska-Curie fellow presso l'European University Institute di Firenze con un progetto intitolato Aesthetic and Anthropological Representations as Evidence of Racism: from Italian Unification (1861) to the Fall of Fascism (1943). Tra le sue più recenti pubblicazioni figura il libro Art et fascisme. Peindre l'italianité, 1922-1943 (Dijon, Les presses du réel, 2021).
Non é necessario registrarsi per la partecipazione in presenza. La partecipazione online invece é possibile via Zoom con preregistrazione: https://us02web.zoom.us/meeting/register/tZckdOGorzwqGtD1MMF47P8eFnKWG7K_299V
Organizzazione scientifica: Giulia Beatrice