Seeing like Dante: Similis and the Reader's Eye
Event on-site and online

Date:

Nov 23, 2022

Time:

03:00 PM - 05:00 PM (Local Time Germany)

Speaker:

Bill Sherman

Location:

Villino Stroganoff, Via Gregoriana 22, 00187 Rom

Contact:

direktionsassistenz@biblhertz.it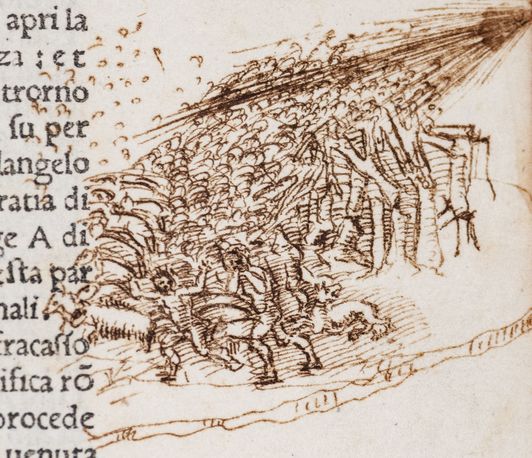 In this illustrated lecture, Bill Sherman will introduce his recent work on reading—and readers' responses—as a visual rather than verbal phenomenon. Between the 13th and 17th centuries, in fact, there are all kinds of overlooked traces of visual responses to texts, from isolated doodles to fully fledged illustrative schemes. But we have never really known what to do with them, or even what to call them.
This talk will offer as a case study the marginal drawings in an extraordinary copy of Dante's Divine Comedy, now housed at the Biblioteca Vallicelliana. Sometimes attributed to members of the Sangallo family and often associated with Leonardo and Botticelli, these images present us with a puzzle. With only a couple of exceptions, the images represent the text's extended similes (i.e. the things Dante compares what he is seeing to) rather than the usual programme that shows Dante's spectacular encounters on his long and cosmic pilgrimage. While this approach to the text may be unique, Sherman will argue that it is not as strange as it looks, and—in making his case—will draw both on the history of rhetoric and the history of the eye itself.

Bill Sherman is Director of the Warburg Institute and Professor of Cultural History at the University of London's School of Advanced Study. He has also served as Director of Research & Collections at the Victoria and Albert Museum (V&A) and was the founding director of the University of York's Centre for Renaissance/Early Modern Studies (CREMS). He is best known for his work on the history of books and readers, particularly his work on marginalia—including John Dee and Used Books. He is currently working on a study of visual marginalia called The Reader's Eye.
For participation via Zoom, follow this link: https://bit.ly/3Db88Yk
Scientific Organization:
Sietske Fransen and Leendert van der Miesen