Medieval Art in Georgia through the Soviet Lens: from Colonialist Marginalization to Nationalist Acclamation
Research Seminar Series: "Shifting Images and Ideas of Europe's East: An Art Historical Approach from the Margins"
Public event without registration

Date:

Apr 27, 2023

Time:

03:00 PM - 05:00 PM (Local Time Germany)

Speaker:

Alžběta Filipová

Location:

Villino Stroganoff, Via Gregoriana 22, 00187 Rome and online

Contact:

freiberg@biblhertz.it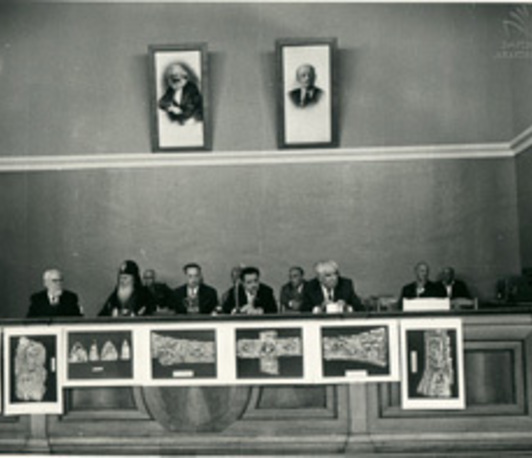 Speaking of Europe often presupposes the existence of a stable unity of people with a common history, culture and identity. Yet it is not only the current political crisis that reveals major imbalances within the continent, where the gap between 'West' and 'East' looms particularly large. This series of research seminars offers the opportunity to read Europe's East from a historical perspective, in its relationship to other European regions, some of them (self-)declared as the center, as well as to the neighboring continent of Asia.
We will examine how both sides discursively negotiated questions of identity and significance, as well as geographical and cultural boundaries. We will use artifacts and performative cultural practices to understand how the associated processes of inclusion and exclusion did function, how Europe was repeatedly produced and constructed in the changing field of tension between East and West, and under what conditions and with what intentions these shifts did occur.
5th Research Seminar "Medieval Art in Georgia through the Soviet Lens: from Colonialist Marginalization to Nationalist Acclamation"
Arising from a cultural crossroads between Europe and Asia and characteristic by profound cultural syncretism, the art and architecture of medieval Georgia has been put on the side-lines of the Eurocentric art historical canon. The marginalization is due in large part to historiographic factors stemming from the past two hundred years of Russian domination of South Caucasus.
This lecture investigates the progressive historiographic construction of two main (and sometimes contradictory) perspectives that have shaped the limited understanding that art historians worldwide have of Georgian medieval art. Firstly, we will briefly expose the dominant Russian narrative making the art of South Caucasus the product of a geographically and culturally peripheral zone of assimilation and imitation of Byzantium. This evidently reflected the marginal political position of Georgia within the Russian Empire and Soviet Union. Secondly, we will focus on the establishment of art history as scientific discipline in the 1920's in Georgia, on its methodological and ideological frameworks, as well as on its fundamental role in the process of formation of ethnic and national identity.
Alžběta Filipová is a Marie-Skłodowska Curie Fellow at Masaryk University. Her doctoral research focused on the art and material culture of late Antiquity and early Middle Ages in the Mediterranean world with a special emphasis on mobility of objects and cultural transfers. Her first monograph (Milan sans frontières. Le culte et la circulation des reliques ambrosiennes, l'art et l'architecture, Viella 2019) deals with the early cult of relics and the circulation of iconographic and architectural models. In her post-doctoral research, she has concentrated on the historiography of art history and on the close relationship between scholarship and politics in South Caucasus, especially in Georgia, in the 19th and 20th century.
For participation online: please follow on our Vimeo channel: https://vimeo.com/event/3340652
Scientific organization: Jana Graul and Seraina Renz
Image: Photo of the session related to the anniversary of the Museum of Georgia, 1965, in the Institute of Marx, Engels and Lenin. Sitting from the left: Giorgi Chubinashvili, Ephraim the Second, Vakhtang Japaridze, Nikoloz Cherkezishvili, Shalva Amiranashvili. © The Parliamentary Library of Georgia