'Taio dorado': On Wood and Gold in Fifteenth-Century Venice
Research Seminar
Public event without registration

Date:

May 10, 2023

Time:

11:00 AM - 01:00 PM (Local Time Germany)

Speaker:

Alison Wright

Location:

Villino Stroganoff, Via Gregoriana 22, RM 00187 Rome and online (Vimeo)

Host:

freiberg@biblhertz.it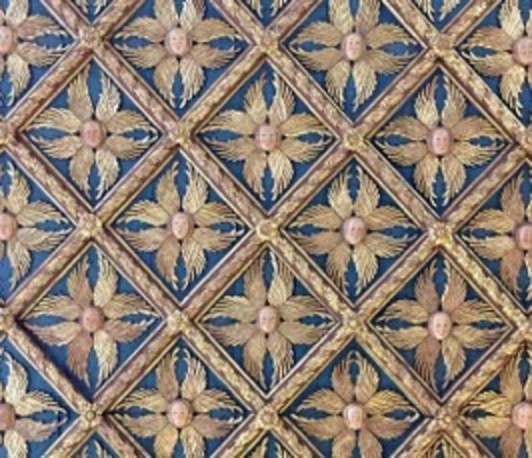 In the Hebrew bible, carved wooden form and hammered gold surface are the very stuff of skillful fabrication; wood overlaid with pure gold honoured the Holy of Holies and Solomonic rule. Thinking wood and gold together, this exploratory paper will address the many kinds of work – religious, political, economic and aesthetic – that this apparently pragmatic pairing was put to use in Quattrocento Venice, a republic in which sites, things and institutions proliferated as 'golden'.
The ambitious commissions of the Scuola Grande of S. Maria della Carità will be taken as a revealing of the spatial and visual affordances and classing of gold on wood in this period, from the expansive fields of the ceiling to the precinct of the altarpiece. How were materials sourced and crafted, as well as imagined, to offer presence, protection or affect of a kind distinct from either mosaic or metalwork? Are the measurable yet animated surfaces of gold-on-wood peculiarly Venetian in the way they address beholders and conjure affiliations across time and space?
Alison Wright is Professor in Italian Art, with a focus on the late medieval and Renaissance in the Department of History of Art at UCL. Her first major book project was a monograph on the Pollaiuolo brothers (2005). She has co-authored conference papers and curated exhibitions including Renaissance Florence: The Art of the 1470s at the National Gallery London. Her 2019 book Frame Work: Honour and Ornament in Italian Renaissance Art investigates the visual and ideological work of Renaissance framing in the context of ritual and across media. Her recent research addresses changing aesthetic and material economies of gold in Renaissance art, and she will be taking up a Leverhulme Fellowship in 2023-24 to write on Gilded Cities: the Politics and Performance of Gold, 1300-1550.
For participation online on our Vimeo channel, please follow this link: https://vimeo.com/event/3347645
Scientific Organization: Wenyi Qian