Prof. Dr.-Ing. Hermann Schlimme (1969–2023)
It is with great sorrow that we announce the sudden and unexpected passing of Hermann Schlimme, our esteemed colleague for many years.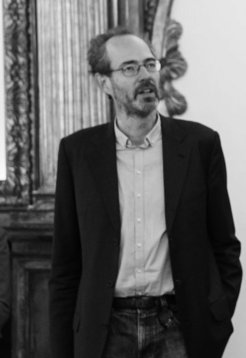 Hermann Schlimme was a research associate at the Bibliotheca Hertziana from 1998 to 2016.
He first joined the Bibliotheca Hertziana as assistant to Christoph Luitpold Frommel, after having studied architecture at the Technische Universität Braunschweig and obtaining a PhD in architectural history (1998). As Frommel's assistant he studied the history of architecture and the surveying and documentation of buildings. From 2002 to 2016 he was an indispensable member of the Department of Architectural History directed by Elisabeth Kieven.
His research ranged from the history of the science of architecture in the early modern age to the facades of Renaissance and Baroque churches in Rome and the first reinforced concrete buildings in Genoa in the 19th century. He pioneered the introduction of digital reproduction technologies to produce high-resolution scans of architectural drawings, the results of which formed an essential part of the Bibliotheca Hertziana's first major database projects, which were dedicated to plans of the city of Rome (Cipro) and architectural drawings (Lineamenta).
From 2002 Schlimme directed his own research project 'Wissensgeschichte der Architektur', a joint initiative between the Bibliotheca Hertziana and the Max Planck Institute for the History of Science in Berlin. He was also involved in various other collaborative projects, such as the ten-year EU ECHO project with Tsinghua University in Beijing, which researched the Western buildings of the Old Yuanmingyuan Summer Palace in Beijing.
In 2016 he took up a lectureship at the Technische Universität Berlin, where he became Professor of Building and Urban History in 2017.
His sudden death has deeply affected us all. We express our condolences to his wife and loved ones.
His colleagues at the Bibliotheca Hertziana