Italy in a Global Context
The focus on Italy in a global context aims to recast our understanding of Italian early modern art and its fortune by focusing on artistic developments occurring outside of the Italian peninsula and its urban centers.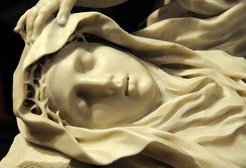 In doing so, it challenges the paradigm of the centrality of artistic capitals and the subsequent reception of their breakthroughs in a subordinate periphery, proposing instead a pluralistic picture with a view to a global understanding. A particular point of focus of the section is Latin America and its idiosyncratic reinventions of the Baroque. It builds on previous research on the interactions between Rome and the Viceroyalty of Peru in the seventeenth century, as well as the Latin American actualization and renewal of German-language art theory and historiography in the twentieth century.
Furthermore, in relation to the "ventennio fascista", the question of the imperialist aspects of modern architecture, urbanism, and art in the territories occupied by Italy are explored. By means of a comparison with regionalisms in young nations such as Brazil and Argentina, which fought against a Western modernist "neocolonialism", on the one hand fascist colonial architecture can be observed as regionalist constructions of the Other. On the other hand, a more complex picture of global Modernisms can contribute to a new political Geography of Art.