Figures of Protest: Figuration and Politics in and around Michelangelo Pistoletto's Comizi (1965–1966)
Research Seminar
Date:

Jun 6, 2019

Time:

02:00 PM - 03:30 PM (Local Time Germany)

Speaker:

Tenley Bick

Location:

Villino Stroganoff, Via Gregoriana 22, 00187 Rom

Contact:

paulinyi@biblhertz.it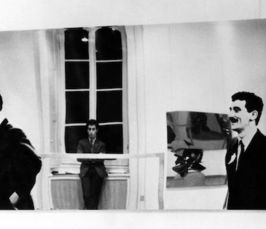 April 1966: For his first solo museum exhibition and American solo debut, Italian artist Michelangelo Pistoletto exhibited his collaged, highly polished, steel quadri specchianti (mirror paintings) at the Walker Art Center.
The final gallery staged a departure: It was filled with new works with figures sourced from photographs taken by fellow artist Renato Rinaldi of anti-war and labor protests, political rallies, and other demonstrations then taking place in Italy. This seminar re-examines Pistoletto's exploration of figuration in the mirror paintings through investigation of the understudied Comizi (Rallies) and related works. This talk situates them as the site of two parallel shifts in Pistoletto's practice: first, a move from a directorial model of authorship to a selective, editorial one; and second, a turn away from universally mundane, everyday imagery to political (and politicized) imagery united by anti-capitalist sentiment. By examining these images' figural navigation of Italian labor politics and the cultural geopolitics of the transatlantic artistic context of the early Cold War, this talk finds these works consolidate a new model of political figuration in the Sixties, repositioning our understanding of the mirror paintings and the history of postwar figuration in Italian and European art.
Tenley Bick is Assistant Professor of Global Contemporary Art in the Department of Art History at Florida State University. Her book project is entitled Figure as Model: Michelangelo Pistoletto and the Italian Avant-Garde in the Global Sixties. She holds a PhD in art history from UCLA.
Scientific organization: Maria Bremer and Marica Antonucci

Image caption: Michelangelo Pistoletto, Due uomini che camminano (alt. Due uomini che passano, 1966) in Pistoletto, Galleria Sperone, Milan, November, 1966. Photo by Paolo Bressano. Courtesy of the Archivio Pistoletto, Cittadellarte-Fondazione Pistoletto.