Reimagining the Family Album: Carla Lonzi's Autoritratto (1969)
Research Seminar
Date:

Jun 6, 2019

Time:

11:00 AM (Local Time Germany)

Speaker:

Teresa Kittler

Location:

Villino Stroganoff, Via Gregoriana 22, 00187 Rom

Contact:

paulinyi@biblhertz.it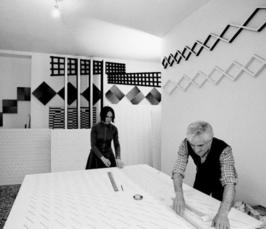 When Carla Lonzi published Autoritratto (Self-Portrait) in 1969, it marked the self-imposed end of a career that had spanned a little over ten years. As is well known, the book collects much of Lonzi's art-critical output of this period, collating dozens of recorded interviews with a roll call of artists.
What results is something that resembles an autobiographical novel and as befits this genre there are over a hundred images peppered throughout its pages. These are reproduced as black and white photographs, often small in size, with some no larger than a postage stamp. Their at times grainy, overexposed, or out-of-focus quality gives them a homely, amateur feel, like the kinds of photographs that might have been culled from a family album or scrapbook.
This research seminar asks what made it possible for it to be structured in such a way that registered the intimacy of home and the proximity of relations with friends and family. Autoritratto asks us to look in a particular way and at specific categories of photographs that evoke an explicitly domestic setting. It is the realization of a project that wants to reimagine artistic practice through the lens of the everyday, pressing further the kinds of experiments such as Arte Abitabile that had also sought to define art in this way and anticipating an entire generation of politics that would claim the home and personal space as their locus.
Teresa Kittler is a lecturer in History of Art at the University of York. Her research focuses on artistic practices from 1945 to present day, with a special interest in Italian postwar art and primarily on issues related to art and the environment and feminism. Since completing her PhD, she has been the recipient of fellowships from the British School at Rome and the Center for Italian Modern Art (CIMA).

Scientific Organization: Giorgia Gastaldon