Radical Statecraft: Transforming Institutions through Imaginative Practice
Research Seminar
Online event via Zoom and on site

Date:

Apr 5, 2022

Time:

10:15 AM - 12:30 PM (Local Time Germany)

Speakers:

Aria Spinelli and Chiara De Cesari

Location:

Villino Stroganoff, Via Gregoriana 22, 00187 Rom

Contact:

freiberg@biblhertz.it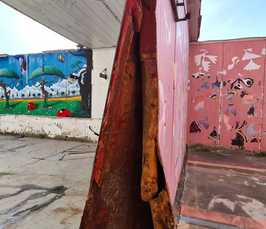 1960s-1970s countercultural practices have often raised a dilemma, within or against institutions? Over the past decades, many artists and cultural workers have explored an alternative, the creation of countercultural institutions.
Against the backdrop of state failure and withdrawal under neoliberal, (post)colonial, postsocialist and (post)pandemic conditions, cultural workers have begun creating spaces of collaboration and cohabitation prefiguring new forms of life. As members of the IMAGINART project group, we explore these institutional experiments in Hungary, Indonesia, Italy, Kurdistan, Palestine/Lebanon and South Africa. In particular, our aim is to understand how art reimagine institutions, and affects the political imagination, as well as the notion of citizenship. In our talk, we will focus on Italy, analysing the history of centri sociali (cultural squats) through the lens provided by the concept of "radical statecraft".
Chiara De Cesari  is Associate Professor in European Studies and Cultural Studies at the University of Amsterdam. Her research explores how memory, heritage and cultural politics are shifting under conditions of globalization, (post)coloniality and state transformation. Chiara leads a Dutch Research Council-funded Vidi project on "Imagining Institutions Otherwise: Art, Politics, and State Transformation." She is the author of Heritage and the Cultural Struggle for Palestine (Stanford, 2019), and co-editor of European Memory in Populism, Routledge, 2019 and Transnational Memory, de Gruyter, 2014.
Aria Spinelli is an independent curator and postdoctoral researcher at the University of Amsterdam. Her Ph.D analyzed how curatorial practice is related to social imagination and performativity. A founding member of the artistic and curatorial collective Radical Intention, she was a member of the curatorial team of The Independent project at the MAXXI from 2018 until 2020. Between 2015 and 2020 she was an external curator at the Pistoletto Foundation and BOZAR. She is the editor of Shaping Desired Futures, NERO, 2018. Between 2009 and 2012 she was curator at the Isola Art Center (Milan). 
Scientific Organization: Jacopo Galimberti


This event will take place also on Zoom. The link to join the event will be sent to you in a confirmation email. Please register through: https://us02web.zoom.us/meeting/register/tZMrcu-pqjotGdwqbZA13nKnrLDw3SokpmRj