Visualizing Language
Workshop
Datum:

27.02.2020

Uhrzeit:

11:00 - 17:30

Ort:

Villino Stroganoff, Via Gregoriana 22, 00187 Rom

Gastgeber:

Bibliotheca Hertziana - Max-Planck-Institut für Kunstgeschichte

Kontakt:

boehm@biblhertz.it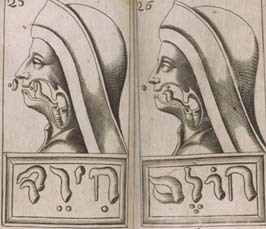 What happens when language is not the means of communication but the topic of discussion? How can language be visualized so that we can talk about it? The Latin alphabet can be used of course as well as Greek, Hebrew, Arabic and Oriental characters.
But is that sufficient to capture the essence of languages? This small workshop will discuss three different ways in which language was made visible between the 17th and the 19th century. In John Wilkins (1614-1672) use of diagrams to explain grammar in his An Essay Towards a Real Character, and a Philosophical Language (London, 1668); through Franciscus Mercurius van Helmont's (1614-1698) method of teaching Hebrew with images to deaf-mute children, and lastly by discussing how printing of the "Our Father" in the oriental printing workshop of the Parisian Imprimerie nationale can be used as a case study for the history of visualizing language.

Scientific organization: Sietske Fransen
Program
Visualizing Language

11:00-13:00 Fabien Simon (Université Diderot Paris): How to Exhibit Languages? The "Our Father" as Linguistic Tool and its Materiality.

13:00-14:00 Lunch
14:00-15:30 Sietske Fransen (BHMPI, Rome): From Seeing to Speaking: a Universal Language in Pictures
15:30-16:00 Coffee break
16:00-17:30 Daniel Rosenberg (Clark Honors College, University of Oregon): A Map of Language

Daniel Rosenberg
is Professor of History at the University of Oregon. His work concerns the history of information in the early modern and modern periods. His publications include Histories of the Future with Susan Harding and
Cartographies of Time: A History of the Timeline
with Anthony Grafton. Rosenberg's current work concerns the language of data.
Sietske Fransen is Max Planck Research Group Leader of the Group "Visualizing Science in Media Revolutions" at the Bibliotheca Hertziana – Max Planck Institute for Art History. She has worked extensively on the role of translation in early modern scientific communication and is currently working role of images as visual arguments. Her paper will discuss a seventeenth-century method of teaching deaf-mute children to speak as devised by Franciscus Mercurius van Helmont.
Fabien Simon is Associate Professor in Early Modern History at the Université de Paris. His research focuses on the history of knowledge and, in particular, on the role played by languages in its development and circulation.