Michelangelo Antonioni and the Matter of Painting
Research Seminar
Public Event / Participation possible via zoom

Datum:

22.10.2020

Uhrzeit:

11:30 - 13:00

Vortragende:

Matilde Nardelli

Gastgeber:

Bibliotheca Hertziana - Max-Planck-Institut für Kunstgeschichte

Kontakt:

rossi@biblhertz.it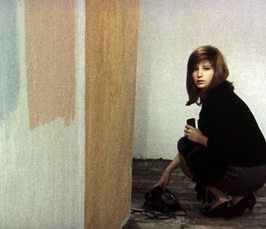 This talk explores the connections between Michelangelo Antonioni's cinema and 1960s and 1970s painting. The intermediality of cinema and painting problematizes notions of purity in both arts. Why Antonioni's cinema is often considered pure and abstract?
This talk aims to challenge a dominant reading of Antonioni's cinema as pure, and abstract, and indebted to painting. Which are the aesthetic features that make his cinema 'pure'? Why Mark Rothko's paintings are often associated with Antonioni's films in relation to 'purity'? How can Antonioni's cinema be pure, and 'pictorial', if it is engaged in an intra-disciplinaries conversation?
This talk addresses the ways in which the materiality (physical, socio-historical) of painting defined Antonioni's cinema, focusing on the pro-filmic space in Il deserto rosso (1964) and on his pictorial production The Enchanted Mountains.


Matilde Nardelli is a Senior Lecturer in the London School of Film, Media and Design of the University of West London. She writes on cinema, photography and the visual arts. Her essay on topics including obsolescence, waste and 'the end', have appeared in Tate Papers, NECSUS, The Journal of Visual Culture, Photographies, The Soundtrack, The Oxford Art Journal, as well as in a number of edited collections. She co-edited a volume on the artist and designer Bruno Munari for Peter Lang (2017) and her monograph Antonioni and the Aesthetics of Impurity: Re-Making the Image in the 1960s was recently published by Edinburgh University Press in September 2020.

Participation via zoom is possible here.
Scientific Organization: Alberto Lo Pinto