(Im)material Michelangelo: Toward a Visual Historiography of Sculpture – Between Reproduction and Art-Historical Enquiry
International Conference
Online event via Zoom

Beginn:

25.05.2021 14:00

Ende:

26.05.2021 17:00

Vortragende(r):

6th International Conference (Post-Doc) by the Rome Art History Network (RAHN)

Gastgeber:

Rome Art History Network (RAHN)

Kontakt:

freiberg@biblhertz.it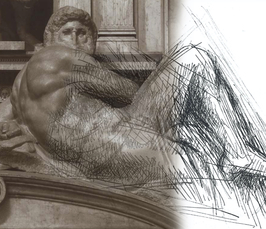 The 6th International postdoctoral Conference by the Rome Art History Network focuses on the problem of reproducing, representing, or copying Michelangelo's sculpture from the 16th century to today between artistic practice and criticism.
Reproducing an artwork, independently of the purpose (artistic, documentary, or scientific) and of the medium used, inevitably involves acts of interpretation and remediation. This is particularly true for Michelangelo's sculpture, due to his peculiar way of engaging with materials, as he overtly exposed traces of his working process through the uneven treatment of surfaces and the use of fragmented or sketched elements, according to the well-known poetics of the non finito. The conference will consider the transforming reception of Michelangelo's plastic works and their translation in other media, like painting, drawing, printing, photography, and cinema, reconstructing the artist's historiographic path over time and all over the globe.

Talks in English and Italian.


For participation via Zoom, you find the link HERE.

Scientific Organization: Giulia Daniele (Rome Art History Network), Daniele Di Cola (Koninklijk Nederlands Instituut Rome)
In collaboration with the Bibliotheca Hertziana, promoted by the Rome Art History Network (https://www.romearthistorynetwork.com).

Program


Tuesday, 25 May 2021
14:00
Welcome
Tristan Weddigen (Bibliotheca Hertziana, Roma)
14:05
RAHN Welcome
Ariane Varela Braga (Universität Zürich), Francesca Parrilla (University of Notre Dame, Rome Global Gateway)
14:10
Introduction
Giulia Daniele (Rome Art History Network), Daniele Di Cola (Koninklijk Nederlands Instituut Rome)


SESSION I
Chair: Tristan Weddigen
14:25
Joris Van Gastel (Universität Zürich)
Remediating Michelangelo. Tintoretto and the Sculptural Model


14:45
Valentina Balzarotti (Bibliotheca Hertziana, Roma)
Fortuna visiva e ricezione della Pietà Bandini nella pittura del secondo Cinquecento


15:05
Camilla Colzani (Fondazione 1563, Torino)
La ricezione della scultura di Michelangelo nella Milano di fine Cinquecento: il caso di Ambrogio Figino tra disegno e incisione


15:25
discussion
15:45 break

16:00
Lucia Simonato (Scuola Normale Superiore, Pisa)
Tra esecuzione e percezione. Appunti italo-francesi di fortuna michelangiolesca da Bernini a Carpeaux
16:20
Sara Vitacca (Université Paris 1 - Panthéon Sorbonne)
Michelangelo sul comò: bronzi, calchi e copie dall'artista negli interni dell'Ottocento

16:40
discussion
SESSION II
Chair: Tanja Michalsky (Bibliotheca Hertziana, Roma)
16:55
Tommaso Casini (Università IULM, Milano)
La Pietà e il Mosè di Michelangelo: filmare la violenza e la delicatezza

17:15
Joséphine Vandekerckhove (Universiteit Gent)
Michelangelo in Motion: The Artist's Sculptures in Mid-Century Films on Art
17:35
discussion



Wednesday, 26 May 2021


SESSION III
Chair: Marco Ruffini (Sapienza Università di Roma)
14:00
Ilenia Falbo (Università della Calabria)
La circolazione dei modelli scultorei michelangioleschi nella stampa erudita romana di Restaurazione
14:20
Karolina Zgraja (Universität Zürich)
Heinrich Wölfflin's Approach to Art-Historical Analysis of Sculpture in Die Jugendwerke des Michelangelo (1891)
14:40
Marc Michael Moser (Universität Wien)
Der Moses des Michelangelo: Freud and His Material
15:00
discussion
15:20 break


SESSION IV
Chair: Claudia Cieri Via, Sapienza Università di Roma

15:35
Giovanna Targia (Kunsthistorisches Institut, Firenze / Universität Zürich)
"Ein Materialfanatiker wie wenige": note su Erwin Panofsky interprete di Michelangelo
15:55
Emily Fenichel (Florida Atlantic University)
Michelangelo's Pietà in St. Peter's: Reception, Replica, and Relic
16:15
Rosalia Pagliarani (Musei Vaticani)
Controfigure eloquenti. Il ruolo delle copie novecentesche della Pietà vaticana tra Esposizioni Universali e restauro
16:35
discussion