Field Seminar and Workshop Intellettuale, 1975: Fabio Mauri's Projection Work "Il Vangelo secondo Matteo di/su Pier Paolo Pasolini"
Field Seminar
Studio visit and on-site workshop close reading session / Participation upon registration

Datum:

14.03.2022

Uhrzeit:

10:00 - 16:00

Ort:

Studio Fabio Mauri, Via del Cardello 16/16a, 00184 Rome and Villino Stroganoff, Via Gregoriana 22, 00187 Rome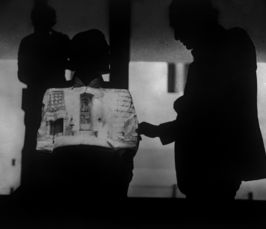 A visit to Studio Fabio Mauri , Associazione per l'Arte L'Esperimento del Mondo, will be followed by a workshop in Villino Stroganoff with a screening of Fabio Mauri, Intimità di Pasolini (2005) and group discussion focusing on a close reading of Fabio Mauri's Intellettuale (1975), led by Benjamin Fellmann (Paris x Rome Fellow), Fabien Vitali (LMU München) and Ivan Barlafante, Dora Aceto and Sara Codutti (Studio Fabio Mauri).
In 1975, on the inauguration of the new Galleria Comunale d'Arte Moderna in Bologna, Fabio Mauri (1926–2009) realized his famous work Intellettuale with the participation of his friend, Pier Paolo Pasolini (1922–1975): Using the latter's upper body as a screen, Mauri projected Pasolini's entire film Il vangelo secondo Matteo (1964) upon him.
This event opens with a studio visit to Studio Fabio Mauri, led by Mauri's former assistants Dora Aceto, Ivan Barlafante, Marcella Campitelli, Claudio Cantelmi, Sara Codutti and Sandro Mele.
The afternoon workshop at Villino Stroganoff is dedicated to a close reading and discussion of Mauri's Intellettuale. Il vangelo secondo Matteo di/su Pier Paolo Pasolini. It opens with an extract of Mauri's performance video Intimità di Pasolini (2005), followed by an introductory talk by Fabien Vitali and remarks on Fabio Mauri's projections by Ivan Barlafante, Dora Aceto and Sara Codutti. Fabien Vitali will act as a discussant to the following round table discussion and close reading of Intellettuale. Participants are asked to deliver short remarks on different aspects in order to jointly assess specificities of this work of art.


Fabien Vitali, born 1978 in Switzerland, is currently Visiting Professor at Ludwig-Maximilians-Universität München, Institut für Italienische Philologie. He holds a PhD from the Scuola Normale Superiore di Pisa with a work on unreleased material of Giuseppe Tomasi di Lampedusa. Latest publications include Dante Alighieri – 1 Sonett, 30 Übersetzungen (Turia + Kant 2021) and in particular, several works on Pier Paolo Pasolini (i.a., Vom Verschwinden der Glühwürmchen, Laika 2015), as well as critical translations (i.a., Giorgio Galli, Pasolini – Der dissidente Kommunist, Laika 2014). He recently translated and edited the partly unreleased audio-conversations between the German-Jewish journalist Gideon Bachmann and Pasolini with a critical comment (Bachmann-Gespräche [two volumes], Hamburg 2022).
Ivan Barlafante (Giulianova, 1967) attended the course Estetica della Sperimentazione which Fabio Mauri held at the Accademia di Belle Arti dell'Aquila in 1988. In 1994, he collaborated as a performer on the occasion of the retrospective "Fabio Mauri Opere e Azioni" at the Galleria Nazionale Arte Moderna in Rome. Since February 1995, he has worked as an assistant alongside Fabio Mauri on the artist's works and installations. Currently he is the manager of the Studio Fabio Mauri.
Dora Aceto is Dottore in Scienze Storico-Artistiche. Specialized in the curatorship of artistic and cultural events, she works for the Studio Fabio Mauri Associazione per l'Arte L'Esperimento del Mondo as manager of exhibitions and publishing projects pursued by the Studio. Assistant to the artist Fabio Mauri since 2003 until his death, she continued her activities in the association founded in his memory.
Sara Codutti graduated from the IUAV – Istituto Universitario di Architettura di Venezia and worked on various exhibition projects in Italy and, in Germany, at the State Art Collections – SKD in Dresden. She currently collaborates with Studio Fabio Mauri in Rome, which deals with the study, archiving and cataloging of the works and exhibitions of the artist, who died in 2009, and for which she is editing the general catalog with the scientific direction by Carolyn Christov-Bakargiev.
Programme
10:00–12:30 Studio Visit – Studio Fabio Mauri - Location: Studio Fabio Mauri
Meeting on site. Led by Fabio Mauri's former assistants, the studio visit will introduce to Fabio Mauri and his works.
12:30 –13:30 Lunch break
Workshop close reading session – with Fabien Vitali (LMU München) and Ivan Barlafante (Studio Fabio Mauri), in presence of Dora Aceto (Studio Fabio Mauri) (14.00–16.00) - Location: Villino Stroganoff
14:00–14:15 Introduction: Intellettuali. Fabio Mauri and Il vangelo secondo Matteo di/su Pier Paolo Pasolini. Aspects and reflections of "gli intellettuali" in the 1975 Bologna exhibition Avanguardie e Cultura Popolare – Benjamin Fellmann
14:15–14:25 Film screening: Fabio Mauri, Intimità di Pasolini / Pasolini's Intimacy – extracts, performance video, 2005, Italian with English subtitles.
14:25–14:45 "L'azione è temibile". La poetica di Pasolini alla luce delle azioni di Fabio Mauri – riflessioni – Fabien Vitali
14:45–15:00 Remarks on Fabio Mauri's projections and intimacy with Pasolini – Ivan Barlafante
With the additional participation of Dora Aceto and Sara Codutti, Studio Fabio Mauri.
15:00–16:00 Round table group discussion
Participants are asked to contribute a brief statement on observations, thoughts or specific aspects of the work Intellettuale and Fabio Mauri from their different research perspectives. The aim is to multiply perspectives on this single azione in collaboration of Fabio Mauri and Pier Paolo Pasolini in its historic context in 1975, against the background of contemporary Italian and international developments in art and broader culture. The guiding interest is to inquire into the specific situation and set-up of this remarkable performance, its elements and significance.
This event takes place in person on-site with limited places.
For a possible participation, please send a request to: freiberg@biblhertz.it
Scientific organization: Benjamin Fellmann
Rome Contemporary Initiative, Paris X Rome Programme, Department Weddigen
Picture Caption:
Fabio Mauri, Intellettuale, 1975. "Il Vangelo secondo Matteo" di/su Pier Paolo Pasolini, Galleria Comunale d'Arte Moderna, Bologna, Foto: Antonio Masotti, Courtesy the Estate of Fabio Mauri and Hauser & Wirth