Christoph Keller: Data Error – Roma Antichità
Research Exhibition
Guided Tour: 14.04.2023 at 15:00, with previous registration

Beginn:

14.04.2023

Ende:

15.04.2023

Vortragender:

Christoph Keller

Ort:

Bibliotheca Hertziana, Via Gregoriana 30, 00187 Roma

Kontakt:

freiberg@biblhertz.it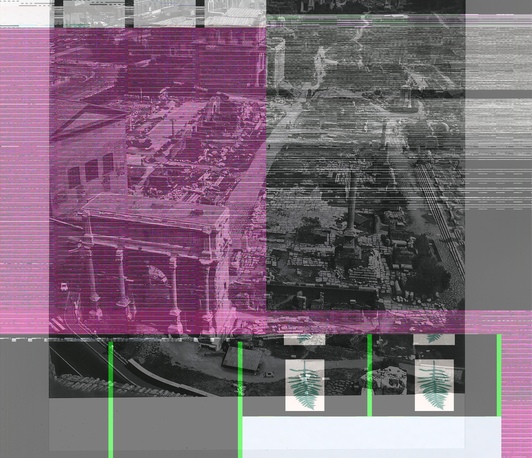 From February 16 until April 14, 2023, the Bibliotheca Hertziana – Max Planck Institute for Art History in Rome will host the exhibition Data Error – Roma Antichità by visual and conceptual artist Christoph Keller. Data Error – Roma Antichità is a series of framed digital collages installed on exhibition walls under the Mannerist frescos of Palazzo Zuccari.
The collages were composed by superimposing two antagonistic elements: high-resolution scans of black-and-white photographs from the "Roma Antichità" section of the Bibliotheca Hertziana's Photographic Collection mounted on archival cardboard, and screenshots of the artist's computer crashing under the weight of the files – something it did often during his research on the photographs.
As the title of the series suggests, the images invoke a conflation or collapse of different temporalities and, by extension, of different concepts of history. Analog photography was a crucial medium in the late 19th and early 20th centuries; the black-and-white photographs represent not only a depiction but also a reification of Roman Antiquity. The culture of this ancient world has only been gradually rediscovered since the Renaissance, becoming a central point of reference for the neoclassical movement since the 18th century. Western historical narratives commonly refer to a founding myth based on Greco-Roman Antiquity – a myth to which conventional notions of art, as well as of Art History, remain tied even today.
Keller's images show a post-analog collapse and disintegration of this continuity by virtue of a simple technical glitch: the rupture of a personal computer system. The collages bring together two adverse and irreconcilable time periods, and in doing so herald the advent of a new era, in which the timeline of history can no longer be thought of only as horizontal, but also as vertical, diagonal, and perpendicular.
(Christoph Keller)
In the adjacent "Sala del Disegno" of the Palazzo Zuccari, Christoph Keller presents some of his books, including his new publication Dopostoria, 2023, as well as the films Anarcheology, 2014, and Storni Morti, 2018.
In 2018/19 Keller was invited by the Bibliotheca Hertziana as the institute's first Arts Fellow to continue his Anarcheology Museum project and to contribute to the research initiative Rome Contemporary.
Christoph Keller would like to thank the entire staff of the Bibliotheca Hertziana, its Photographic Collection, Fondazione Catel, and the Berlin Programme for Artistic Research.
Curated by Lara Demori
ACCESS INFORMATION
February 16 – April 14, 2023
Bibliotheca Hertziana, Palazzo Zuccari
Exhibition opening hours: Mon-Fri 9:30 – 18:30 with registration only at freiberg@biblhertz.it
Opening February 15, 2023, 18:00 without registration
Guided Tour: 14.04.2023 at 15:00, with registration here: https://events.biblhertz.it/event/82/
Christoph Keller lives and works in Berlin.
In his installations, frequently resembling experimental configurations, German artist Christoph Keller uses the discursive possibilities of art to investigate the themes of science and its utopias. The Cloudbuster Projects involve reenactments of Wilhelm Reich's experiments for influencing the atmosphere with orgone energy. In Encyclopaedia Cinematographica and Archives as Objects as Monuments, Keller focuses on the archaeology of scientific film, the impossibility of objective documentation, and the problem of the archival urge to bring order to comprehensive knowledge. Despite all methodological objectivity, a selective and deliberate design is always at work here. In Expedition-Bus and Shaman-Travel, a mirrored camper van for research trips, the ethnographic viewpoint of science is exposed as a projection of its own culture. The viewer is drawn into the installation and becomes a field investigator, for Keller is ultimately concerned with linking the methods and procedures of scientific work with a spatial but also psychological-physical experience of art.
His works are present in many international exhibitions like the Lyon Biennial, 2011; Klimakapseln, Museum für Kunst und Gewerbe, Hamburg, 2010; the Bienal del Fin del Mundo, Argentina, 2009; Bienal do Mercosul, Porto Alegre, Brazil, 2009; Dreamtime, Musé des Abattoirs in Toulouse, 2009; Artfocus, Jerusalem, 2008; Made in Germany, Hannover, 2007; the solo-exhibition Observatorium at the Kunstverein Braunschweig, 2008; LIAF Biennial, Lofoten, Norway, 2011; Sharjah Biennale, 2017; Anarcheologie at Centre Pompidou Paris, 2017; or Il mondo in Fine at the Galeria Nazionale di Arte in Rome, 2019.
Æther – between cosmology and consciousness, 2011 at Centre Georges Pompidou in Paris was his first large-scale artistic and curatorial project in an institutional context. He received several awards and grants for his work like the Ars Viva-Preis for art and science, the P.S.1 studio-grant in New York, Residences Internationales aux Recollets, Paris; BM Suma in Istanbul; Capacete in Sao Paulo; Villa Massimo in Rome; and Villa Aurora in Los Angeles.
Image: Christoph Keller: Data Error – Roma Antichità (2018-08-24 at 16:24.57), 2021, Archival pigment print on Canson Velin Museum Rag, framed ca. 28,7 x 37,2 x 3 cm , Roman Forum with the Arch of Severus