Making the Map: Shared Knowledge in the Construction of Selenographies
Research Seminar
Datum:

11.11.2019

Uhrzeit:

11:00

Vortragende(r):

Nydia Pineda de Ávila

Ort:

Villino Stroganoff, Via Gregoriana 22, 00187 Rom

Kontakt:

paulinyi@biblhertz.it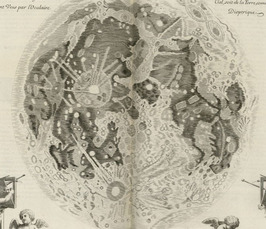 From the mid-seventeenth century, lunar maps or selenographies, became a new visual genre in the European print culture. They were used to promote technology and astronomical practices, to illustrate natural philosophical discourses, and as elaborate gifts for patrons.
These images have been explained as substitutes for direct observation and as rhetorical instruments for the validation of optical experience and empirical knowledge construction. However, the makers of selenographies were aware of the limitations of both their skills and tools, and these representations were conceived as highly mediated artefacts. This talk will present evidence of the process of creating and understanding of lunar maps through collaborations between instrument makers, astronomers and artists. The discussion will focus on attitudes towards technologies, observation and graphical techniques, which prompted a wide range of experiments and ideas concerning the function of these images.
Nydia Pineda de Ávila is a postdoctoral fellow at Universidad Nacional Autónoma de México and a visiting researcher in the group EarlyModernCosmologies, Ca' Foscari. She investigates the making of astronomical images between Europe and the Americas.