Speaking Bodies? Recoding Language in Women's Art Practices - From Present to Postwar Italy
Conference
Datum:

05.04.2018

Uhrzeit:

18:00

Ort:

Villino Stroganoff, Via Gregoriana 22, 00187 Rom

Gastgeber:

Bibliotheca Hertziana - Max-Planck-Institut für Kunstgeschichte

Kontakt:

paulinyi@biblhertz.it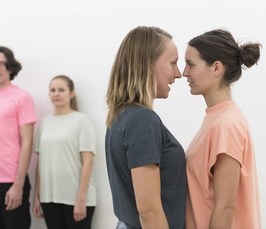 As part of the art historical research initiative Rome Contemporary, the Bibliotheca Hertziana - Max Planck Institute for Art History is pleased to announce an evening of encounters between artists, scholars, and critics dedicated to the theme of embodied language in selected women's art practices, ranging from present to postwar Italy.
Inspired by the work of visual artist and performer Martina-Sofie Wildberger, currently resident at the Swiss Institute in Rome, as well as by a number of Italian women artists from the 1960s and '70s, the conference will explore how their performative practices have addressed the norming of both language and the body. By juxtaposing these artistic positions across decades and discussing them in the context of today's economics of singularities on the one hand and the persistence of gender imbalance on the other hand, the encounter intends to reevaluate the political potential of an embodied recoding of language.
Concept: Maria Bremer
Speakers: Tobias Bienz, Maria Bremer, Barbara Casavecchia, Denise Hasler, Tristan Weddigen, Martina-Sofie Wildberger.

Presentations will be conducted in English.

The event is co-organized with the support of Swiss Institute in Rome and République et Canton de Genève.
Program
18:00 I WANT TO SAY SOMETHING
Martina-Sofie Wildberger (Swiss Institute in Rome), together with Tobias Bienz and Denise Hasler

19:00 Speaking Bodies. Introductory Presentation
Maria Bremer (Bibliotheca Hertziana)

19:15 To Shut Up, or Rather to Speak.
Women Artists, Critics, Feminism and New Languages in Italy in the 1960s and 1970s
Barbara Casavecchia (Brera Academy/Frieze Magazine)

19:45 Discussion

20:05 Closing Remarks
Tristan Weddigen (Bibliotheca Hertziana)

20:15 Reception