Knotting Time: Lace, Labor and Gender in Italy
Research Seminar
Online event via Zoom

Datum:

24.05.2021

Uhrzeit:

16:00 - 18:00

Vortragende:

Anna Dumont

Kontakt:

freiberg@biblhertz.it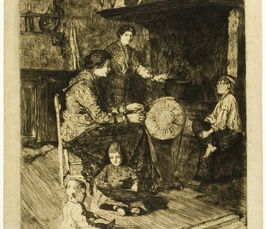 In late 19th-century Italy, lacemaking was seen as a reclamation of the Italian past and the key to its industrial future. As the lace revival set thousands of women to work, however, the female lacemaker remained an ambiguous figure.
Alternately positioned as industrial worker, craftsperson, housewife, and artist, the merlettaia emerged as a flashpoint for critics, politicians, artists, and philanthropists. Lace's complex knot patterns made its maker's labor-time visible. Yet the form of authorship her embodied skill represented remained under intense debate. Was her work fine art, in the tradition of early modern women artists? Or was it domestic labor, whose chief reward was the ability to remain home with her children? Against the backdrop of Italian industrialization, the seminar considers the categorization of lace work, tracing the political and economic consequences of distinctions between art, craft, industry, and housework, and of the persistence of these terms in art history.


Anna Aline Mehlman Dumont is a Ph.D. candidate at Northwestern University, and is currently the 2020-21 Lily Auchincloss Rome Prize Fellow at the American Academy in Rome. She is writing a dissertation on gendered labor and Italian textiles between 1870 and 1945.
For participation via Zoom, you find the link HERE.
Passcode: BH

Meeting ID: 747 558 6652
Scientific organization: Tristan Weddigen and Charles Kang