Parures et Parades: Being Signare in Senegal around 1800
Lecture
Event cancelled

Datum:

27.10.2022

Uhrzeit:

18:30 - 20:00

Vortragende:

"Henriette Hertz Lecture" by Anne Lafont

Ort:

Villino Stroganoff, Via Gregoriana 22, 00187 Rom

Kontakt:

rossi@biblhertz.it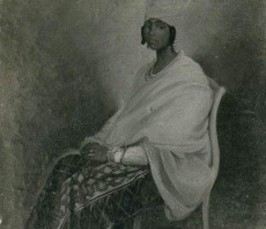 The lecture will focus on material culture, that is, the objects in use and the representations of an exceptional community: the Signares, mixed-race women from Saint-Louis du Sénégal and the island of Gorée, who, through their matrimonial alliances with European merchants, formed an elite.
Their local political power and economic one on a transcontinental scale were accompanied by a number of practices related to the accumulation of material goods, sartorial and jewel ostentation, and architectural overkill. It is this perspective that interests me, namely how the multicultural identity of these 'Afropean' women, to borrow an effective concept from Novelist Leonora Miano, was embodied in the ostentatious fashioning of sophisticated finery, the performance of which was relayed by various urban strategies of parade.
Anne Lafont is an art historian and professor at the École des hautes études en sciences sociales in Paris. She is interested in the art, images, and material culture of French colonial empire, as well as in historiographical questions related to the notion of African art. She has published on several topics as art and knowledge in imperial context or gender in art literature of the 18th and 19th centuries. Her recent books are L'art et la race. L'Africain (tout) contre l'œil des Lumières (2019) and lately a co-edition with François-Xavier Fauvelle: L'Afrique et le monde. Histoires renouées (2022).
Participation possible via Zoom: https://us02web.zoom.us/meeting/register/tZApd-igqz4iHNHnmKfgy2m0FsSDNWS3dyxo
Scientific organization: Laura Valterio and Sara Vitacca