Henriette Hertz Lecture: "Doll & Stool: Materiality and Identity of Senegal's Signares"
Lecture
Event is cancelled, new date to be defined

Data:

21.06.2021

Ora:

17:00 - 18:30

Relatrice:

Anne Lafont

Contatto:

rossi@biblhertz.it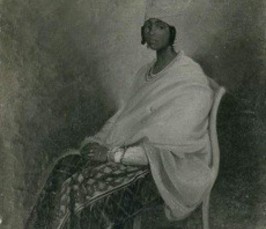 Senegal's Signares constituted a mix-raced society in 1800 and their art, connected with their political and economic power, was based on body's ornamentation and architectural invention. The materiality of their history's sources will be the main issue of this lecture.
Signares, Black and mixed-race women of Senegal's Saint-Louis and Gorée Island, first allied to Portuguese Jews in exile which they were the concubines and commercial partners of, then united to French colons and adventurers of the 18th and 19th centuries, to found a powerful aristocracy on a local level and, economically speaking, on a transcontinental scale. Signares initiated practices connected to accumulation of goods, fashioning of clothes and jewelry, and developed a new urban and ostentatious architecture. This material culture, at odds with conventional representations we usually have of Black agency in the early modern Atlantic world, will be the topic of this lecture which will deepen the impact of this elite community as well as further explores the sources – mostly material – of our contemporary knowledge regarding 1800 Signares.


Anne Lafont is Professor (directrice d'études) at EHESS in Paris. She is an art historian and researches visual cultures of the early modern world with a specific interest in Art of the African Diaspora in an eighteenth- and nineteenth-centuries imperial context, and contemporary artistic theory regarding Blackness. She was counsellor for Musée d'Orsay's exhibition : Le modèle noir (2019). Her last book : L'art et la race. L'Africain (tout) contre l'oeil des Lumières was published in 2019 and earned two prizes : Prix Fetkann Maryse Condé and Prix Vitale et Arnold Blokh.
Participation possible via Zoom, you will find the link HERE.

Scientific organization: Katharina Bedenbender