ArchML Visions - Leveraging Computational Methods for the Study of Architecture and the City in Historical, Present and Future Contexts
Workshop (closed)
Datum:

24.11.2021

Uhrzeit:

15:00 - 18:00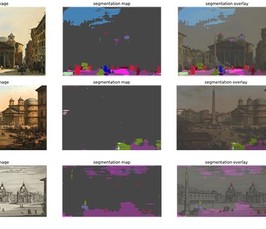 Machine Learning has changed the stakes in architectural and urban research, but how can we devise and cross-fertilize comprehensive and innovative research methodologies that consider the city both through events and as an object of a longue durée?
Both the quantitative lens and the content agnostic flexibility of Machine Learning suggest the possibility of circumventing direct formulas by a supercharged probabilistic approach to urban phenomena based on big data. What does that mean to other types of information about heritage, or aesthetic experience? The lack of incorporation of decanted epistemologies from the humanities and certain social sciences in the data, either explicitly modeled or implicit in the design of the datasets used, constitutes not only a challenge but a veritable urgency. Can we devise comprehensive and interdisciplinary research methodologies that consider the city as an object of a longue durée and ensure a plural and rigorous approach?

SPEAKERS: Shin Koseki UdM, Lucía Jalón Oyarzun DVS, Frederick Chando Kim EPFL, Johanes Mikhael EPFL, Alejandro Cantera INSPIDE-World Bank, Valentine Bernsconi DVS, Eva Cetinic DVS, Dario Negueruela DVS.
This workshop is limited to Institute members only.
Participation information will be communicated internally.
Scientific Organization: Dario Negueruela del Castillo
Image Caption: Unsuccessful image segmentation results when applying DeepLab semantic scene segmentation model to a selection of art historical materials. DNC 2021.https://github.com/tensorflow/models/tree/master/research/deeplab.