Art to Numbers - Ph.D. Seminar
Ph.D. seminar
Closed number Workshop

Datum:

11.05.2022

Uhrzeit:

14:00 - 16:00

Vortragende(r):

Workshop

Ort:

Villino Stroganoff, Via Gregoriana 22, 00187 Rom

Kontakt:

freiberg@biblhertz.it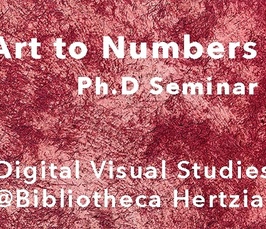 Practical implementation and theoretical analysis of visual similarity in the context of (digital) art history, with a short hands-on introduction to the ImageGraph tool and invites participants to discuss how digital methods can assist art historical research methodologies.
Due to its hybrid nature, the field of Digital Humanities presents conceptual challenges in the application of innovative research tools. How can we bring Art History into the post-digital age? How can we leverage computational knowledge production in the study of cultural heritage? In this Ph.D. Seminar, participants will give short presentations about their projects (10 mins approx). The first project focuses on the measurement of visual features by means of abstraction and analysis of form. The second project proposes to study spatial relationships in historical texts, images, and maps with Machine Learning methods. The third looks into detecting and analyzing hand gestures in the context of Early Modern Art. A discussion will follow on how to critically address the discursive construction of contemporary Digital Art History research projects.
Speakers: José Ballesteros Zapata, Valentine Bernasconi, Jason Armitage


No more participation available.


Scientific Organization: Darío Negueruela del Castillo