Queer Collecting and Masculine Desire in Fin-de-Siècle Period
Research Seminar
Online event via Zoom (previous registration) and on site

Datum:

07.06.2022

Uhrzeit:

10:00 - 12:00

Vortragender:

Damien Delille

Ort:

Villino Stroganoff, Via Gregoriana 22, 00187 Roma & Zoom

Kontakt:

freiberg@biblhertz.it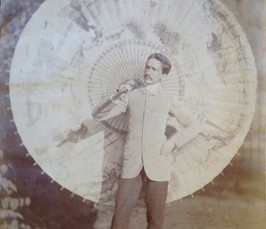 A new relationship to art object collections appeared during the second half of the 19th century, through forms of affection and emotion linked to the rise of modernity. The object becomes the support of fantasies and the expression of a sensuality in the more specific context of Orientalism and Japonisme.
Photographs, art objects, clothing and personal things will allow us to analyze the way in which certain collectors, writers, artists, or patrons associated with the Art Nouveau movement took hold of this exotic material culture to make it the place of sexual and social emancipation to come. The objects and settings of Edmond de Goncourt and Robert de Montesquiou, the circles of Hugues Krafft and Siegfried Bing will be presented, to conclude with the development of Japanese collecting across the Atlantic around the circle of Ernest Fenollosa in Boston. Employing certain aspects of queer theories of "affect," we wish to enrich the reflection on the material analysis of objects outside of their public understanding, namely the depersonalized spaces of World Fairs, museums, and art galleries.

Damien Delille, Art and fashion historian, is an assistant professor of modern and contemporary art at the Rhône-Alpes Center for Historical Research (LARHRA), Université Lumière Lyon 2. He specializes in art and visual culture from the turn of the twentieth century and at the intersections of gender and masculinity studies, queer theory, and the history of sexuality. His doctoral thesis Genre androgyne: Arts, culture visuelle et trouble de la masculinité (XVIIIe–XXe siècle) was published in May 2021 (Brepols).

Participation via Zoom with preregistration: https://us02web.zoom.us/meeting/register/tZwkde-orj8sHd0PR-PzvVhrnNMcMuOl16WZ
Scientific Organization: Sara Vitacca