Ad tartaros: Art in Italy and Mongol Asia circa 1300
Lecture
Event on site and online

Data:

20.09.2022

Ora:

18:00 - 19:00

Relatrice:

Anne Dunlop

Luogo:

Villino Stroganoff, Via Gregoriana 22, 00187 Rom

Contatto:

rossi@biblhertz.it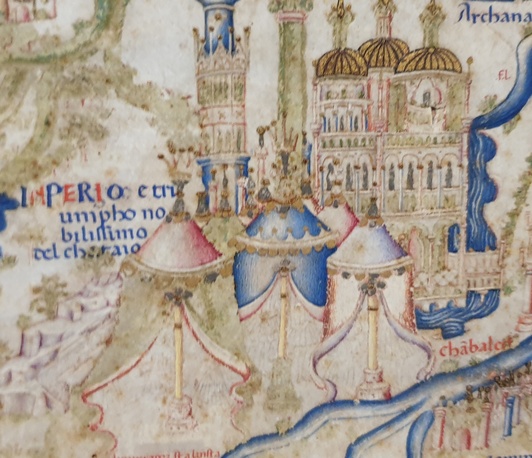 The thirteenth-century rise of the Mongol Empire brought objects, peoples, and technologies into new and accelerated contact. This lecture explores the impact of this contact in Italian states around 1300, at a moment of intense artistic change.
At their fullest extent around 1260, the territories of the Mongol Empire stretched from the Korean peninsula to the Black Sea, and from the Eurasian steppes to the Himalayas. As new and important Eurasian trade routes opened, objects, artists, and technologies circulated within Mongol territories and beyond. Italian cities became the European gateways to this expanded and newly-imagined world; and missionaries from Italian states created churches and communities in the major centres of the Mongol Empire.

But what difference did this make, if any, in Italian art around 1300, a moment of intense and lasting artistic change? At the centre of such a question is the issue of visual translation: the ability of one artistic language to interpret and adapt the visual syntax of another, and the degree to which meaning might be carried over into a new visual context. What would count as evidence of artistic contact and impact, and what methodologies and models would serve for analysis? To explore these questions, this lecture examines how the newly open Eurasian world was pictured and imagined, including in a previously overlooked manuscript in the Vatican Library, and what objects and images are known to have travelled.


Anne Dunlop FAHA studies trecento and early quattrocento art, with a particular interest in secular images, cross-cultural artistic contact, and the materials of painting. She holds the Herald Chair of Fine Arts at the University of Melbourne, and is the author or editor of six book and catalogues. In 2023 she will present one of the three plenaries at the 98th Annual Meeting of the Medieval Academy of America.

It is possible to follow the conference on the Institute´s streaming platform: https://vimeo.com/event/2430705