Static Pictures, Living Portraits: Repainting, Conservation, and the Ontology of Images
Research Seminars Series "Conserving Histories of Art"
Data:

20.10.2022

Ora:

11:00 - 13:00

Relatore:

Adam Jasienski in conversation with Michael Cole

Luogo:

Villino Stroganoff, Via Gregoriana 22, RM 00187 Rome. In person and online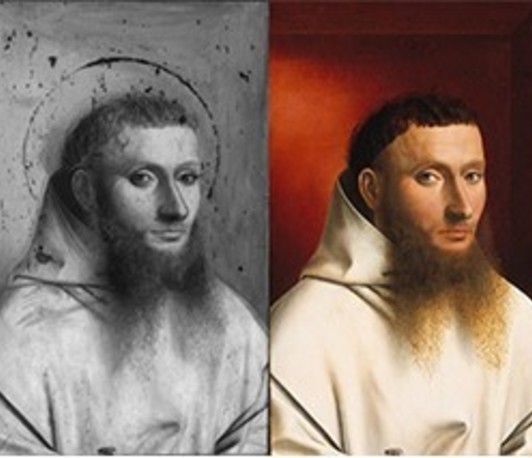 Portraiture, Alberti said, promises a permanence across time and space. Early modern artists and audiences had other ideas, though: they frequently interfered with 'finished' portraits. Carefully attending to the historical practices behind repainted portraits can help guide approaches to their conservation.
The proceedings of a 1651 trail conducted by the Holy Office of the Inquisition regarding the proliferation of a bishop's portraits in the central-Mexican city of Puebla offer an insight into the sorts of interferences that took place. According to the proceedings, people treated the portraits as sacred images, even adding wings and other holy attributes to them, effectively rendering the sitter a saint. The "new" images were often only slightly different to earlier versions, but they differed drastically in terms of their spiritual efficacy and potential usage: in sum, in terms of their ontology. The case reveals the flexibility with which early modern individuals lived with images, and illustrates that portraits were not permanent commemorations. This talk considers the inherent susceptibility of portraiture to repainting, as well as later conservation campaigns that aimed to return these images to their "original" state.


Adam Jasienski is Associate Professor of Art History at Southern Methodist University in Dallas, Texas. He is a specialist in 16th- and 17th-century visual culture, particularly in Spain and Latin America. His forthcoming book Praying to Portraits: Audience, Identity, and the Inquisition in the Early Modern Hispanic World (Penn State University Press, April 2023) examines the intersections of portraiture and religious imagery in the early modern Hispanic world. His current research is supported by Villa I Tatti and the Madrid Institute for Advanced Study at the Casa de Velázquez. He is the 2022-23 Marilynn Thoma Fellow in Art of the Spanish Americas.

Michael Cole is Howard McP. Davis Professor of Art History at Columbia University in New York. He is a specialist of Renaissance and Baroque European art, and has written extensively on the history of artistic practices (why things were made the way they were, how techniques themselves could take on or change in meaning over time) and materials (with essays on the early modern conception of bronze, stone, wax, clay, and on the aesthetic of impoverishment). His most recent books include Sofonisba's Lesson: A Renaissance Artist and Her Work (Princeton University Press, 2019), and Leonardo, Michelangelo and the Art of the Figure (Yale University Press, 2015).

Online participation via Zoom will be possible. To join click here.

Scientific Organization: Lise Meitner Research Group "Decay, Loss, and Conservation in Art History"