(Dis)Continuities: Navigating Through the History of Ukrainian Art. Meeting 4
Research Seminar
Event open to the public without registration

Data:

07.03.2023

Ora:

11:00 - 13:00

Relatore:

Tetiana Kochubinska and Natalia Matsenko

Luogo:

Villino Stroganoff, Via Gregoriana 22, 00187 Rome

Contatto:

freiberg@biblhertz.it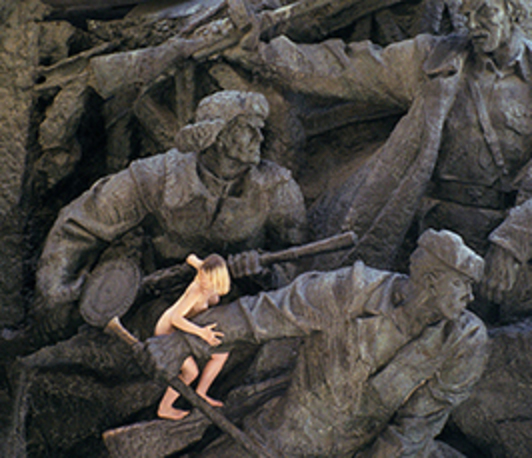 The fourth research seminar dedicated to the history of Ukrainian art will cover some aspects of contemporary art discourses in Ukraine. Tetiana Kochubinska and Natalia Matsenko, who work both as researchers and curators, will share their perspectives on the development of media art in Ukraine after the 1990s, and the artistic reflection of social shifts in the country that began in 2014.
11:00-12:00 Tetiana Kochubinska Alarming Symphony: Ukrainian contemporary art after 2014
The talk attempts to explore how the situation of anxiety and numbness has been shaping topics and tendencies in Ukrainian contemporary art after 2013-2014, when the revolutionary events known as Euromaidan were happening, till 2022 when the Russian full-scale invasion shook the whole country. The lecture also reflects on the possibilities and transformation of the language of art in the face of fading communication.
12:10-13:10 Natalia Matsenko To Grow Through Asphalt. Media Art in Ukraine since Independence
A condensed and analytical introduction to the development of media art in Ukraine from the beginning of the 1990s to the present day through the prism of challenging circumstances and unstable institutional conditions.
Tetiana Kochubinska is an independent curator, writer, and lecturer from Kyiv, Ukraine. She has worked as a curator on the Research Platform of the PinchukArtCentre (Kyiv). In her curatorial practice Tatiana is particularly interested in the questions of responsibility, Soviet history and its relation to today's society, the psychological state of the individual time and again flashbacking the personal memories of the cross-border 1990s. Among her numerous projects, She co-curated Future Generation Art Prize@Venice as a collateral event within the 58th Venice Biennial in 2019. Recently, Tatiana also became a member of the curatorial team of The International Coalition of Cultural Workers Against the War in Ukraine.
Natalia Matsenko is a Kyiv-based art critic, independent curator, and lecturer. Author of texts on contemporary art for exhibitions, periodicals, catalogues, and books. Born in Cherkasy, Ukraine. Graduated from the Kharkiv State Academy of Design and Arts, with a Master's degree in Art History. Curator of projects and compiler of catalogues of the international art residency BIRUCHIY Contemporary Art Project and the Landart Symposium "Mohrytsia. The Border Space". She co-curated the exhibition "UNFOLDING LANDSCAPES: Landscape and Poetics in Ukrainian Art" (Art Center Silkeborg Bad, Silkeborg, Denmark / Royal Museum of Art and History, Brussels, 2022). She is a curatorial fellow of the Kunststiftung NRW and Kunstmuseum Bochum 2023-2024. The research focus embraces identity issues through the prism of artistic practices, concepts of landscape and habitat in the socio-cultural dimension, and new media.
Scientific Organization: Oleksandra Osadcha

Participaton online via Zoom:
https://eu01web.zoom.us/j/7475586652
Meeting-ID: 747 558 6652