Ursula's Tourist Imaginary
Research Seminar
Public event without registration

Datum:

31.10.2023

Uhrzeit:

11:00 - 13:00

Vortragende:

Patricia Allmer

Ort:

Villino Stroganoff, Via Gregoriana 22, 00187 Rome and online

Kontakt:

freiberg@biblhertz.it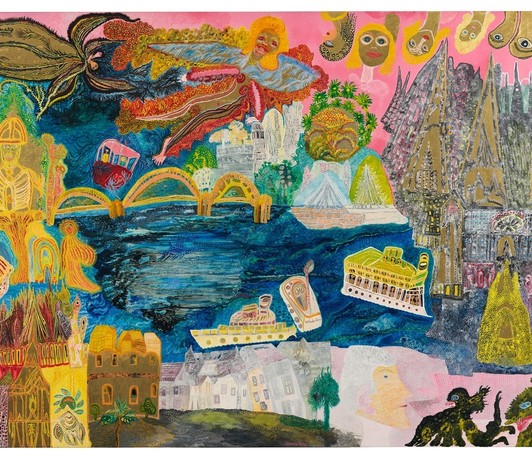 This talk will explore the German artist Ursula Schultze-Bluhm's art in relation to her experiences travelling in the post-war world and her construction in surrealist painting and writing of a 'tourist imaginary'.
The German artist, Ursula Schultze-Bluhm (1921-1999) produced a large fantastic and surrealist-imbued œuvre of artworks and writings. A recurrent concern of these works consists of elements of the activity of tourism, evident in her interest in popular holiday destinations, mass and luxury tourism, hotels, postcards, sights and landmarks, tourist panoramas and skylines, holiday advertising, and even travel agencies – elements comprising the modern, post-war "tourist imaginary" of shared conceptions of travel and the exotic. Ursula's art constructs her own surrealist versions of the multiple material and intangible, ideological aspects of this tourist imaginary, transforming into fantastic journeys what she describes as "the banal everyday of the environmental and consumer world". Using work by theorists of tourism like Hans Magnus Enzensberger and Dean MacCannell, this talk will explore exemplary works by Ursula from the perspective of her versions of the tourist imaginary, focusing on her engagement with key sites, from the Amalfi coast to New York, and with a range of experiences from beach holidays to city breaks.


Patricia Allmer is Professor of Modern and Contemporary Art History at the University of Edinburgh. Her scholarly and curatorial work focuses on Surrealism and on modern and contemporary women artists. Her many books and exhibitions include The Traumatic Surreal: Germanophone Women Artists and Surrealism after the Second World War (Manchester UP, 2022), René Magritte (Reaktion Press, 2019), Lee Miller: Photography, Surrealism, and Beyond (Manchester UP, 2016), Taking Shots: The Photography of William S. Burroughs (2014, Photographers' Gallery, London; Prestel), and Angels of Anarchy: Women Artists and Surrealism (2009, Manchester Art Gallery; Prestel).
Participation is possible online on our VIMEO CHANNEL: https://vimeo.com/event/3719681
Scientific organization: Paulina Caro Troncoso