Mandrake. A Natural History of Image Making
Research Seminar
Public event without registration

Datum:

17.10.2023

Uhrzeit:

11:00 - 13:00

Vortragender:

Ulrich Pfisterer

Ort:

Villino Stroganoff, Via Gregoriana 22, 00187 Rome and online

Gastgeber:

freiberg@biblhertz.it

Kontakt:

freiberg@biblhertz.it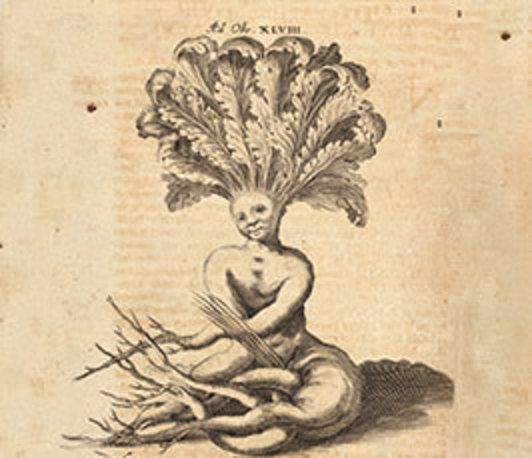 Mandrakes mark the boundary of nature and art. They were coveted objects for medicine, natural history, magic and collections. Supposedly, these human-like roots grow naturally. However, in the early modern period, it was also common knowledge that they were often faked.
In the course of early modern discussions about various aspects of the mandrake, much thought was given to the origins of human image-making and the global production of images. Once again, it becomes apparent how ideas from the early modern period can contribute to a changed understanding of nature and art and the relation of plants and people, even for contemporary considerations.
Ulrich Pfisterer has taught art history at the Ludwig-Maximilians-University in Munich since 2006 and is the director of the Central Institute for Art History. He received his PhD from the University of Göttingen (1997) and undertook his habilitation at the University of Hamburg (2006). His interests encompass the fields of early modern art in Europe and beyond as well as the methodology and historiography of art history. He has published books on – among others – Donatello, Renaissance medals in Italy, the Sistine Chapel, concepts of creativity, and he has co-edited Aby Warburg's "Fragmente zur Ausdruckskunde".
For participation online, please follow this link: https://vimeo.com/event/3700586
Scientific Organization: Tobias Teutenberg, Giovanna Targia (University of Zurich)

This event is part of the Research Seminars Series "Methodology and Ideology: Critical Perspectives on the Historical Paradigms of Art History" (7th Seminar)

Image: Anthropomorphic Turnip, engraving, 15,7x13,3 cm (illustration for Philipp Jakob Sachs von Lewenheimb: Observatio XLVIII Rapa Monstrosa Anthropomporpha, in: Miscellanea curiosa sive Epheremidum medico-physica 1 [1670], plate for pp. 139-144), Copyright "UB Heidelberg"