Art Against Politics
Film screening with discussion
Public event without registration

Datum:

29.11.2023

Uhrzeit:

17:00 - 18:30

Vortragende(r):

Lena Maria Held, Marcus Nebe

Ort:

Villino Stroganoff, Via Gregoriana 22, 00187 Rome

Kontakt:

raffaele.rossi@biblhertz.it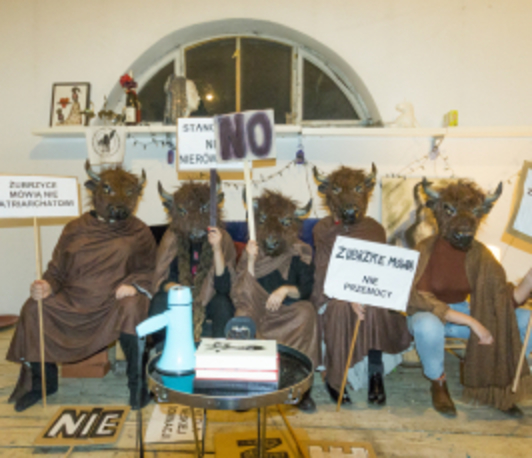 Does art have an effect on non-artistic reality and, if so, to what degree can art shape society and politics? The documentary, "Art Against Politics", provides an array of answers to these questions.
For their film, Lena Maria Held and Marcus Nebe, spoke with diverse members of the Warsaw art scene, such as the visual artist Zuzanna Janin, the illustrator Luka Rayski or the photographer Rafal Milach, about their efforts to impact Poland's political environment through the use of art as a political tool. Beginning with its 2015 victory of the presidential and parliamentary elections in Poland, the National Conservative Party "Law and Justice" (PiS), gradually undermined Poland's democratic institutions by disrupting the separation of powers. As Polish citizens sensed the shortcomings of the new government, resistance reached the streets. Art Against Politics documents the visual and creative interventions of local artists, who were drawn to respond to the political turmoil and contribute to the social resistance movement through the means available to them.
The event consists of a screening of the film in presence of the directors and a subsequent discussion.



Lena Maria Held studied sociology, political science, and art history at LMU Munich, HU Berlin, University College London, and the University of Bamberg. She worked as an editor for Germany's public broadcasting network in the department of cultural and literary criticism. In her social art projects and as the director of documentary films she focuses on the ramifications of society, art, and politics.
Marcus Nebe lives and works in Leipzig, Germany. He studied media arts at the Academy of Visual Arts HGB with Helmut Mark. In his films he deals with homelessness, borders, and plural identities. In his multi-channel installations he explores human behaviour in situations of conflict.

Scientific Organization: Adrian Bremenkamp and Seraina Renz