Fore-Edge Painting
An exhibition cooperation between MACRO and Bibliotheca Hertziana, from September 28, 2021 to January 23, 2022
From September 28, 2021 to January 23, 2022, the Sala del Disegno of the Bibliotheca Hertziana – Max Planck Institute for Art History will host not only its usual art books but also artists' books: volumes transformed into art works by eight contemporary artists. Through the exhibition Fore-Edge Painting, the Studio Bibliografico section of MACRO – Museum of Contemporary Art of Rome experiments a new exploration of the publishing universe that responds to different contexts and times, to places and practices of both the present and the past.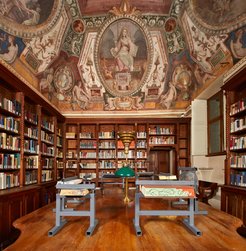 Eight international contemporary artists were asked to freely experiment with the ancient tradition of fore-edge book decoration with paintings and illustrations, giving life to new artworks of a hybrid nature, in some cases invisible at a first glance. The books transformed into works of art by Tauba Auerbach, Kerstin Brätsch, Cansu Çakar, Enzo Cucchi, Camille Henrot, Victor Man, Andrea Salvino and Andro Wekua are exhibited at the MACRO and in the Sala del Disegno of Palazzo Zuccari, the ancient reading room designed and planned by our founder Henriette Hertz in the early twentieth century, which is decorated with frescoes by the painter Federico Zuccari (1540–1609), who designed the building and started the construction at the end of the sixteenth century. The frescoes celebrate the personification of the discipline of Drawing as the father of the arts (painting, architecture and sculpture) and as a key element of the speculative sciences, music, medicine and military disciplines. This allegorical decoration enhances the intellectual emancipation of art, a key element in Zuccari's plans for his palazzo, which was indeed meant to house an academy and residence for artists. Along the lines of this passion for art and publishing, the Bibliotheca Hertziana and MACRO present Fore-Edge Painting, to which each contemporary artist has contributed according to their own free interpretation.
The exhibits on display in the Sala del Disegno of the Bibliotheca Hertziana will be available for viewing from September 28, 2021, Tuesday through Friday from 2:30–6:30 p.m. and will take place in groups of 10 people. A prerequisite for admission is a digital COVID certificate from the European Union (Green Pass, in digital or paper form). Admission is individual and granted only with a protective mask covering nose and mouth to be worn at all times while inside the building. The temperature of each visitor is measured at the entrance and they will be asked for their contact information.
From October 16, 2021 guided tours of the Bibliotheca Hertziana will resume, specifically of Palazzo Zuccari and the modern library building. In addition to the frescoes of Palazzo Zuccari, the scientific research conducted by the institute will also be presented. The visits last approximately 45 minutes are curated by researchers of the Bibliotheca Hertziana and thus, may vary in content. More information and registration link available here.