From Marcus Aurelius's Horse to the Sexuality of Christ. Conceiving European History 500-1500 after Euro-Centrism
Research Seminar
Data:

26.03.2019

Ora:

11:00

Relatore:

Bernhard Jussen

Luogo:

Villino Stroganoff, Via Gregoriana 22, 00187 Rom

Contatto:

paulinyi@biblhertz.it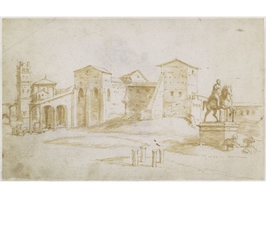 The firmly institutionalized model of historical interpretation "ancient – medieval – modern" is a child of the so-called secularization paradigm and the classic case of a Eurocentric corset. The current work on new, post-Eurocentric concepts of Latin-European history is a paradigm shift that shakes historical scholarship in its foundations.
The old macro historical concept, established for the needs of 18th century intellectuals, but still omnipresent today, is based on a very narrow selection of historical relics, essentially on pragmatic writing and narrative texts. In order to observe the Eurocentric boundaries of the still omnipresent macro model and to look for alternatives, this paper's view on post-Roman European history (6th–16th c.) focusses on material that traditionally belongs to the field of Art History. Macro perspectives change substantially, once historians base their interpretation of European history on visual discourses.
Bernhard Jussen is Professor of Medieval History and its Perspectives in the Present at Frankfurt University. Research fields: Historical Scholarship after Eurocentrism, Kinship in post-Roman Europe, Historical Semantics, The visual Formation of Modern Historical Narratives.