Petrography and Persuasion: Nicola Pisano's Material, Intermedial and Cross-Cultural Experiments in the 1260s and 1270s
Research Seminar
Data:

19.11.2019

Ora:

11:00 - 13:00

Relatore:

Luca Palozzi

Luogo:

Villino Stroganoff, Via Gregoriana 22, 00187 Rom

Contatto:

paulinyi@biblhertz.it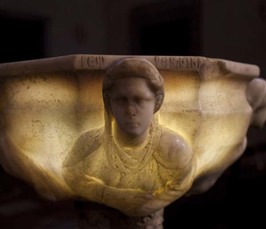 This seminar casts light on the discussions and practices of, in, and around the materiality and aesthetics of stone sculpture, which were carried out in Nicola Pisano's workshop in the 1260s and 1270s.
While we are used to thinking of Nicola Pisano as the great marble carver of the late-medieval period, almost a 'new Polykleitos', his experimentations with stones, minerals and other materials scarcely if at all used in monumental sculpture from the period, such as gypsum alabaster, white onyx, pyrite, gold and glass, have not yet received sustained scholarly attention. This seminar fills out this gap. It contends that Nicola Pisano was well aware of the decisive role that different materials play in monumental sculpture, and that his first-hand knowledge of them and their physical qualities, coupled with his awareness of liturgy, crucially informed his everyday practice as a sculptor.

Luca Palozzi is a postdoctoral research fellow at the Kunsthistorisches Institut in Florenz – Max-Planck-Institut. His research explores the relationship between art theory and artistic practice in the Trecento, seeking to highlight the interconnectedness of these two realms.

Scientific Organization: Adrian Bremenkamp