San Paolo fuori le mura and Roman Historicism in the 1830s
Research Seminar
Event canceled, new date to be defined!

Datum:

23.03.2020

Uhrzeit:

11:00 - 13:00

Vortragender:

Richard Wittman

Ort:

Villino Stroganoff, Via Gregoriana 22, 00187 Rom

Kontakt:

freiberg@biblhertz.it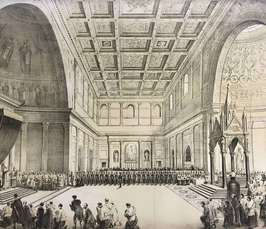 The 19th-century reconstruction of San Paolo fuori le mura is often taken as proof that contemporary Roman culture was backwards-looking and unmodern. A closer look, however, suggests that this easy caricature needs revising.
For ten years after the 1823 fire that destroyed the Early Christian basilica of San Paolo fuori le mura, reconstruction was often mired in debates unleashed by Leo XII's command to rebuild an exact replica of the original 5th-century basilica. But with the appointment of Luigi Poletti as Architect Director in 1833, following the 1830 election of Gregory XVI, a less rigid approach developed and work accelerated dramatically. This paper will examine how the project was tacitly reconceived after 1833, both by Poletti and by Pope Gregory and his advisors. The conclusion will then critique the widespread caricature of 19th-century Roman architectural culture as backwards-looking and unengaged with the historicist reflections then remaking contemporary architecture in the northern European capitals.
Richard Wittman is Associate Professor in the History of Art and Architecture at the University of California at Santa Barbara (USA). His first book was Architecture, Print Culture, and the Public Sphere in Eighteenth Century France (Routledge, 2007; French translation 2019); his forthcoming second book examines the 19th-century reconstruction of San Paolo fuori le mura in Rome. He is currently a Fellow at Villa I Tatti (The Harvard Center for Italian Renaissance Studies) in Florence.
Scientific organization: Charles Kang