Narrating Rome, Narrating in Rome: Voice-Overs, Failed Speech and Urban Space in Mario Bava and Dario Argento's Early Gialli
Research Seminar
Online event via Zoom

Data:

28.01.2021

Ora:

11:00 - 13:00

Relatore:

Damien Pollard

Contatto:

rossi@biblhertz.it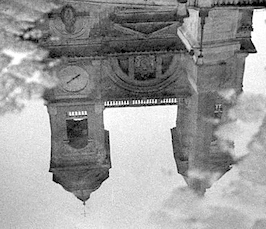 The Giallo film, 'a violent and erotic type of murder mystery' (Olney, 2013), appeared in Italy in the early 1960s and became known around the world for its oneiric narratives, its baroque mise-en-scène and its unsettling musical scores. Gialli were highly sensitive to the sociocultural context of Italy during the economic miracle, depicting in particular the effect of post-war modernization on the Italian city, and on individuals' lived experience of urban space.
This research seminar will investigate the representation of Rome in two cardinal gialli: Mario Bava's La ragazza che sapeva troppo (The Girl Who Knew Too Much, 1963) and Dario Argento's L'uccello dalle piume di cristallo (The Bird with the Crystal Plumage, 1970). In particular, it will attend to the ways in which the post-war growth of tourism, mass media, and technology underlie the fragmentation and disorientation of urban space. Contrary to the scholarly tendency to approach the Italian giallo in visual terms, this research seminar will privilege Bava and Argento's use of sound and will think through the importance of the human voice in both films' representation of Rome. This investigation commences at the location of the first murder, just around the corner, on the so-called Spanish Steps…
Damien Pollard is a Ph.D. Candidate at the University of Cambridge's Centre for Film and Screen. His doctoral work examines the cinematic voice in giallo cinema, and is interested in the ways in which the voice in these films weaves the commercial imperatives of their production into their aesthetic fabrics. Ultimately, this work theorises the voice as a site at which the historicity of these films may be read in concrete, material terms. More broadly, Damien's teaching and research interests span Italian and British cinema, film sound and aural cultural history. He has presented work at numerous conferences in Europe and North America and has published articles on Italian cinema in Screen, The Journal of Italian Cinema and Media Studies and L'avventura, and on political radio in Sound Studies. Before starting his doctoral work, Damien was a practicing medical filmmaker, and his experience of film production continue to inform his scholarly work.


For participation via Zoom, please find the link HERE
Passcode: BH

Scientific organization: Alberto Lo Pinto