When the House Took Flight: Printed Media and Replicas of the Santa Casa di Loreto
Research Seminar
Online event via Zoom

Datum:

29.04.2021

Uhrzeit:

11:00 - 13:00

Vortragende(r):

Erin Giffin

Kontakt:

rossi@biblhertz.it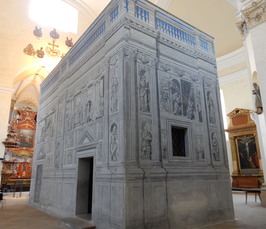 Through a replica of the Santa Casa in the Czech community of Slaný, this presentation explores transmission of the Loretan cult via printed media, revealing paths of information transfer, and the multiple temporalities embedded in the sacred edifice.
The Santa Casa di Loreto recreated in the Czech community of Slaný encapsulates the trend for the cult's spread throughout Europe. The edifice, one of hundreds constructed in the period, was created to express local devotion to the Loretan cult. In its careful rendition of the contemporary cult site, the Slaný replica encourages devotees to pass from the modern church into the permeable contact relic, communing intimately through its crumbling fresco and exposed brick and stone. Such translations of the sacred structure were predominantly facilitated by printed media. This presentation looks to the case at Slaný to engage with the larger trend of circulating printed information that transported the Santa Casa di Loreto to new communities.

Dr. Erin Giffin is a postdoctoral researcher at Ludwig-Maximilians-Universität Munich, a member of the ERC-funded project SACRIMA: The Normativity of Sacred Images in Early Modern Europe. Her current research addresses the Santa Casa di Loreto and its replicas across Europe (Translating Space: Replicas of the Holy House of Loreto, manuscript in progress), and engraved depictions of devotional ephemera, as in Dr. Giffin's recent articles in I Tatti Studies (2020) and the Print Quarterly (2021).


For participation via Zoom, you will find the link HERE.

Scientific organization: Florian Abe