Navigating and Annotating Art Historical Collections
Workshop (closed) with Open Lecture (participation possible online via Zoom and on-site prior registration) on November 23, 09:30 am
Only the Lecture is public (participation possible on-site or online)

Beginn:

23.11.2021

Ende:

25.11.2021

Vortragende(r):

Workshop (closed) with Open Lecture (participation possible on-site or online) by Dario Rodighiero

Kontakt:

freiberg@biblhertz.it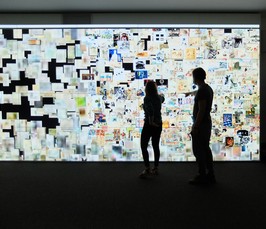 Recent engaging proposals prompt us to reconsider the assumptions and goals behind digital art historical collections. This seminar will tackle new ways of conceiving, navigating and annotating digital art collections through data visualization and interaction design.
With the advent of digitization, not only do we have the promise of increased access to a wealth of art and architectural historical collections, but we face the challenge of integrating these and also make this access comprehensive, functional, and capable. The modern digital scholar ought to reflect not simply on the tools and their integration, but on the relevant ways of capturing content and the very modalities to navigate it. In this seminar, scholars from the Centre for Digital Visual Studies and the Bibliotheca Hertziana will discuss the stakes of browsing through digitized collections with the aid of the body, the role of embodied forms of knowledge, and the challenges of capturing rich and problematic art-historical concepts like "style".
The workshop is closed to the public, except for the lecture by Dario Rodighiero.


Lecture open to the public by Dario Rodighiero
Tuesday 23.11.2021, 09:30-12:45
It is possible to participate on-site (Via Gregoriana 22, 00187 Rome - places are limited) with previous registration via Email at: freiberg@biblhertz.it
This event will take place also online on Zoom Webinar. The link to join the event will be sent to you in a confirmation email. Please register through THIS LINK.

In order to introduce this discussion, we will host Dr. Dario Rodighiero, who will present two ongoing projects, for Harvard Art Museum and Porto University: a data visualization presenting more than 200,000 artworks by similarity is made interactive through a body-gesture interface for museum's visitors; the second, concerns a small digital collection of Porto University: an innovative interface is designed to annotate and explore a collection of Middle Ages' data visualizations. Both projects are open source, and work with the recent standard for image interoperability IIIF. This presentation will be public and an open discussion will follow. After a break, a private session will continue with interventions from the research fellows of the Center for Digital Visual Studies fellows and members of the Bibliotheca Hertziana.

Dario Rodighiero is a SNSF fellow, affiliated to metaLAB (at) Harvard and Bibliotheca Hertziana. His work in the filed of digital humanities focuses on the visualization of digital collections and archives, and the way in which we interact with them. With Metis Presses, he authored in 2021 Mapping Affinities: Democratizing Data Visualization. He is an alumnus of MIT and EPFL; the latter awarded him a PhD in Science. Dario also works as a lecturer in Paris at Pantheon-Sorbonne University.
Scientific Organization: Dario Negueruela del Castillo