Shards of the New World: Painting on Obsidian and the Ecologies of Early Modern Art
Research Seminar
Online event via Zoom and on site (previous registration)

Datum:

06.12.2021

Uhrzeit:

16:00 - 18:00

Vortragende(r):

Christopher J. Nygren

Kontakt:

freiberg@biblhertz.it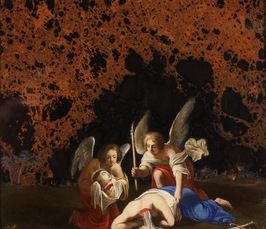 Spanish colonization introduced a host of artistic materials into European workshops. This research seminar examines the artistic, ecological, and spiritual stakes that motivated several European painters to use obsidian from the Americas as the substrate for their devotional paintings.
This seminar presents research from a large book manuscript that examines the emergence of painting on stone through the lens of the ecology of art. What did it mean to paint on lithic material? Why would artists do such a thing? Focusing in on a single strand of the broader argument, the talk will consider painting on stone within the Transatlantic exchange by looking at four paintings on obsidian. The chemical "fingerprint" of the stones reveals that they came from quarries in Michoacán, Mexico. Art historians have been slow to consider the implications of this revelation. Obsidian had a contested status within the world of Atlantic colonization. The research seminar shall consider what entailments, both ethical and artistic, followed when artists transformed a material sacred to the Aztec people into a substrate for images of the Christian godhead.
Christopher Nygren is associate professor of early modern art history at the University of Pittsburgh. His research focuses on the intersection of religion, philosophy, and art in the Renaissance. His 2020 book, Titian's Icons: Charisma, Tradition, and Devotion in the Italian Renaissance, re-examined one of the leading lights of Italian Renaissance painting to reveal the lasting impact of Christian icons on Titian's career. He is currently writing a book, provisionally titled Sedimentary Aesthetics, which examines paintings on stone substrates and the ecology of art.
You will be able to follow this event online, via Zoom with pre-registration through this LINK. For participation on site please write to: mara.freiberg@biblhertz.it

Scientific Organization: Laura Valterio
Image: Louis Cousin (Luigi Primo), "The Martyrdom of St. Catherine of Alexandria and the Miracle of Milk", ca 1630, oil on obsidian. Museum of Art and Archaeology, University of Missouri, Gilbreath-McLorn Museum Fund, 2009.126