The Perfection of Nature: Animals, Humans, and Race in the Renaissance
Research Seminar
Online event via Zoom and on site (previous registration)

Data:

16.12.2021

Ora:

15:00 - 17:00

Relatrice:

Mackenzie Cooley

Luogo:

Villino Stroganoff, Via Gregoriana 22, 00187 Rom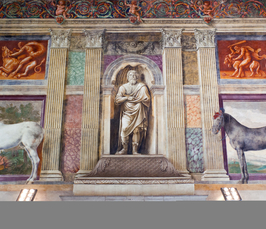 The Renaissance world – from the Mediterranean to Mexico City to the high mountains of the Andes – was marked by a lingering fascination with breeding.
Just as one strand of the Renaissance celebrated a liberal view of human potential, another limited it by biology, reducing man to beast and prince to stud. Aristocrats, breeders, and intellectuals thought through generation as those around them endeavoured to create improved animal bodies, traced here through the cases of Italian horses, Mesoamerican dogs, Andean camelids, and other creatures. As the dangerous idea of controlled breeding was brought to life again and again, a rich, complex, and ever-shifting language of race and breeding developed.
Mackenzie Cooley is an Assistant Professor of History at Hamilton College where she teaches the history of science and intellectual history. She is currently a fellow at Harvard University Center for Italian Renaissance Studies.
You will be able to follow this event both online, via Zoom with pre-registration through this LINK, and live on site after registration. Please write for the participation on site to: charlott.boehm@biblhertz.it

Scientific Organization: Sietske Fransen and Ashely Gonik


Image: A general view of the Sala dei Cavalli, by architect and artists in Giulio Romano's workshop, in which horses from the Gonzaga stables towered over visitors to the Palazzo Te. Mantua, Italy. Alamy. Rights purchased by Mackenzie Cooley.